CHOC Children's Publications
Change CHOC, Change the World Campaign Newsletter


CHOC Children's Launches Campaign to Fulfill Destiny of the Hospital

---
COVER STORY :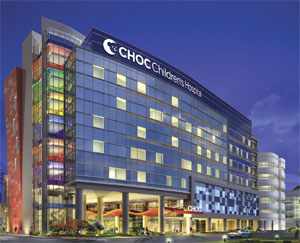 CHOC Children's Launches Campaign to Fulfill Destiny of the Hospital
While many Orange County families may not see the national awards for excellence that CHOC Children's consistently earns, they experience firsthand the world-class care it provides. But in order to sustain its performance as a premier children's hospital, in keeping with advances in medicine and the region's growing needs, CHOC is taking bold action for transformative change.

Orange County has grown robustly since 1964, when CHOC Children's fi rst opened its doors. As the county swelled, more and more families turned to CHOC, developing it into the hub of a regional pediatric healthcare system, responsible for two million children—more than the child population in any one of 39 states.

Now, market and mission demands are pushing this invaluable local asset to grow and pulling it toward its destiny: to become a sustainable, world-class children's hospital that stretches the limits of possibility for nurturing and protecting the health of childre...

click here for full story...
Freestanding children's hospitals are relatively rare in the United States: There are less than 50 of them nationwide. What makes them unique is their ability to apply emerging science, early clinical advances, and the passion of their workers to the immediate care of children— and solely dedicated to children. Without them, primary care doctors would not have places to refer patients that require intensive or specialized treatment.
more...
Leading Citizen- Advocates Stand Behind CHOC Children's Vision




Leading Citizen- Advocates Stand Behind CHOC Children's Vision




In 1964 an influential group of Orange County's citizens came together to create Children's Hospital Orange County. "Now, we are continuing in this tradition to help CHOC evolve and become better," says Sandy Segerstrom Daniels, Honorary Chair of the Change CHOC, Change the World campaign.



click here for story...

CHOC Children's CEO Answers the Call in Documentary Short Film




"Can a Place Love Its Children the Way a Mother Loves a Child?"


Mother love—the love of a mother for her child— is the most ferocious love on the planet. What mother would not confront any obstacle to nurture and protect the life of her child? It's nature's way of ensuring the survival of our species. But who plays the role of the über mother in Orange County—the mother who makes sure all mothers and families have a place to turn to for the well-being of their children?

CHOC Children's is that mother. And the mother behind all mothers is Kimberly C. Cripe, CHOC's President and Chief Executive Officer.

How does she think about running an organization where success depends upon the ability to operate consistently at the outer limits of human, technical, and fi nancial possibility—where outcomes are measured in the ...

click here for story...
More From This Issue...
Hoag Says CHOC Is "The Place" for Children in Orange County


Children's hospitals operate on a different principle than community or "adult" hospitals for one main reason: Children are not small adults. They are distinct enough, physically, to require doctors and nurses to have specialized medical knowledge, training, and equipment to treat them.

Hoag Says CHOC Is "The Place" for Children in Orange County


After years of working through complex details, CHOC Children's and UC Irvine, including its school of medicine, have completed an historic affiliation agreement that integrates their comprehensive pediatric clinical services, innovative research, and teaching programs. The collaboration between CHOC and UC Irvine, one of our nation's most prolific academic and researchpowerhouse universities, brings new hope to families with chronically ill children.

Donors Step Up to Support the Evolution of CHOC Children's


For the Change CHOC, Change the World campaign to be a success, the hospital needs a coalition of business and citizen leaders to endorse the message and then actively telegraph its virtues to others to spur investment in CHOC's future. And this is exactly what many of CHOC's prominent donors have done in their efforts to help it evolve into a world-class children's hospital.