The Julia and George Argyros Emergency Department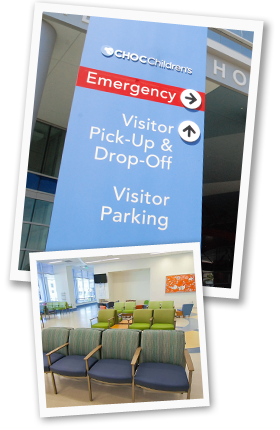 The Only Pediatric Emergency Department in Orange County
The Julia and George Argyros Emergency Department at CHOC Children's Hospital is exclusively dedicated to the treatment of pediatric patients. Our 22,000-square-foot, full-service emergency department is designed to meet the unique needs of children. Our doctors, board-certified in emergency medicine, and specially trained nurses provide the very best patient- and family-centered care 24 hours, seven days a week.
The Emergency Department features 31 treatment rooms, including 14 rapid evaluation and discharge exam rooms and three triage suites. The Emergency Department is close to advanced operating rooms, laboratory, pathology and imaging services—each with a dedicated pediatric environment and staff. Learn more about what to expect and the treatment process at CHOC Children's.
The CHOC Children's Difference
Children are not tiny adults and have very specific healthcare needs. From our equipment to the facilities to the décor, the Emergency Department is designed to meet the needs of children of all ages—from the tiniest newborns to adolescents. Creating an inviting, serene, healing environment for all patients is a top priority for all of our associates. Additionally, we are proud to offer our Emergency Department patients and families the assistance of a child life specialist and special tricks and medical interventions used to make emergency visits to CHOC less painful.

Learn more about the child life specialists in the Emergency Department.


Learn more about how CHOC strives to provide an "ouchless" Emergency Department experience.

At CHOC Children's, we believe in patient- and family-centered care. That means whenever we are treating a child, his or her feelings, emotions and future well-being are a top priority. In addition, family members may stay with the child at all times while in the Emergency Department and help make decisions regarding the child's care and treatment along the way. Learn more about our commitment to patient- and family-centered care.
Convenient and Family Friendly
At CHOC Children's, we understand that life with kids can be hectic and strive to make our services convenient for families. Located off the 5 and 22 freeways, the Emergency Department provides a streamlined process for moving children through the triage process quickly and efficiently. Each exam room is designed to be spacious and accommodate strollers and other children that often accompany their siblings on emergency visits to the hospital.
In addition to providing families the room and speedy service they need, the Emergency Department is provides many of the services patients may need without having to leave the unit. Most blood draws and tests can be done at the patient's bedside and X-ray equipment is available in the unit as well.
Should a child need an MRI, CT scan or surgery, each of these services is located within steps of the Emergency Department for the convenience of our families and in order to provide our patients the fastest service possible.
If your child needs immediate medical attention and you cannot safely transport your child to the hospital, please call 911 immediately. Families may request to be taken to CHOC Children's Hospital in Orange by ambulance.
Photos

Video
News and Announcements

Pressroom
|

Press Release Archive
Articles From the Blog
Visit our Blog for the most recent articles from the experts at CHOC Children's