CHOC Children's at Mission Hospital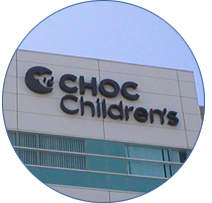 CHOC Children's at Mission Hospital serves as the only dedicated pediatric healthcare facility for families in south Orange County, the surrounding coastal areas and north San Diego County. Inside its doors, you'll find an expert team of world-class physicians and nurses providing compassionate, innovative care to the most fragile of newborns to the most rambunctious of teenagers.
But here, it's not just about our doctors knowing what's best for each child and making all the final decisions. One of CHOC Children's at Mission Hospital's major focuses is on "family-centered care" – involving each patient and his or her parents or caregivers in all aspects of treatment and recovery. A family-centered approach to care empowers families by involving them in decision-making processes while respecting their values, beliefs, and cultural backgrounds. CHOC Children's at Mission Hospital's Family-Centered Care Team ensures that all families have the opportunity to be involved in their child's care.
At CHOC Children's at Mission Hospital, in addition to medical/surgical beds available for children during treatment and recovery from illness or injury and a Short Stay Unit providing care during outpatient or minor procedures, you'll find:
Dedicated pediatric emergency facilities
A collaboration between CHOC Children's and Mission Hospital, the pediatric "wing" of Mission Hospital's Emergency Department separates its high-acute treatment areas from its pediatric functions, providing a lively and unique identity apart from the existing hospital. Special attention was given to the use of colors, textures and images to create a soothing environment for children, diverting their focus to something fun and familiar rather than their fear of being in a hospital. Children needing hospitalization are admitted directly to CHOC Children's at Mission Hospital.


Neonatal Intensive Care Unit (NICU)
In collaboration with Mission Hospital's Labor & Delivery Unit, neonatal care teams are able to be present during high-risk births, and can transport babies needing critical care -- most often premature babies suffering from respiratory and circulatory problems -- to the CHOC Children's at Mission Hospital NICU within minutes. With the latest technology and specialized care, even newborns weighing less than two pounds have a strong chance of growing up to lead normal lives.

Pediatric Intensive Care Unit (PICU)
In the PICU, the highest level of care is available for critically ill or injured children, including those who may need heart or lung monitoring or the attention of an intensive care specialist as the result of a trauma such as an automobile accident, near drowning or major surgery.

Child Life program
Child Life Specialists provide patients and their siblings with emotional and developmental-appropriate support to help minimize the anxiety they might be experiencing and help them gain an understanding of medical treatments with age-appropriate explanations and "medical play" with dolls and instruments. They also provide distraction during painful procedures.

Ronald McDonald Family Room and Sleep Room
Through a partnership with Ronald McDonald House Charities, CHOC Children's at Mission Hospital features the Ronald McDonald Family Room and Sleep Room. In the Family Room, couches, television and DVD player allow families to take a break and relax, or gather to discuss their child's progress. The Sleep Room, with slumber and showering accommodations, allows parents of NICU or PICU patients to spend the night with their child in the hospital.
Whether a child is admitted to CHOC Children's at Mission Hospital to be treated for influenza, a head trauma or a life-threatening heart condition, family-centered care is always a priority. Our care teams help children and their families get back to what's important: enjoying life…together.
About Mission Hospital
CHOC Children's at Mission Hospital is located on the fifth floor of Mission Hospital's patient care tower. Click here for more about Mission Hospital.
Services at this Location
CHOC Children's at Mission Hospital
Building:
5th floor of Mission Hospital's patient care tower
27700 Medical Center Rd. - 5th Floor
Mission Viejo, CA 92691
Phone: (949) 364-1400
Maps:
Click here for printable map