Our Results
Patient Safety
CHOC's efforts to keep your children safe include preventing any harmful events that could occur when during a hospitalization, surgery or invasive procedure. These include:
adverse drug events,
catheter related urinary tract infections,
catheter-related bloodstream infections,
serious falls,
serious pressure injuries,
surgical site infections, and
unplanned extubations (if your child has a tube and mechanical device to help them breathe).
CHOC actively tracks and strives to decrease these events.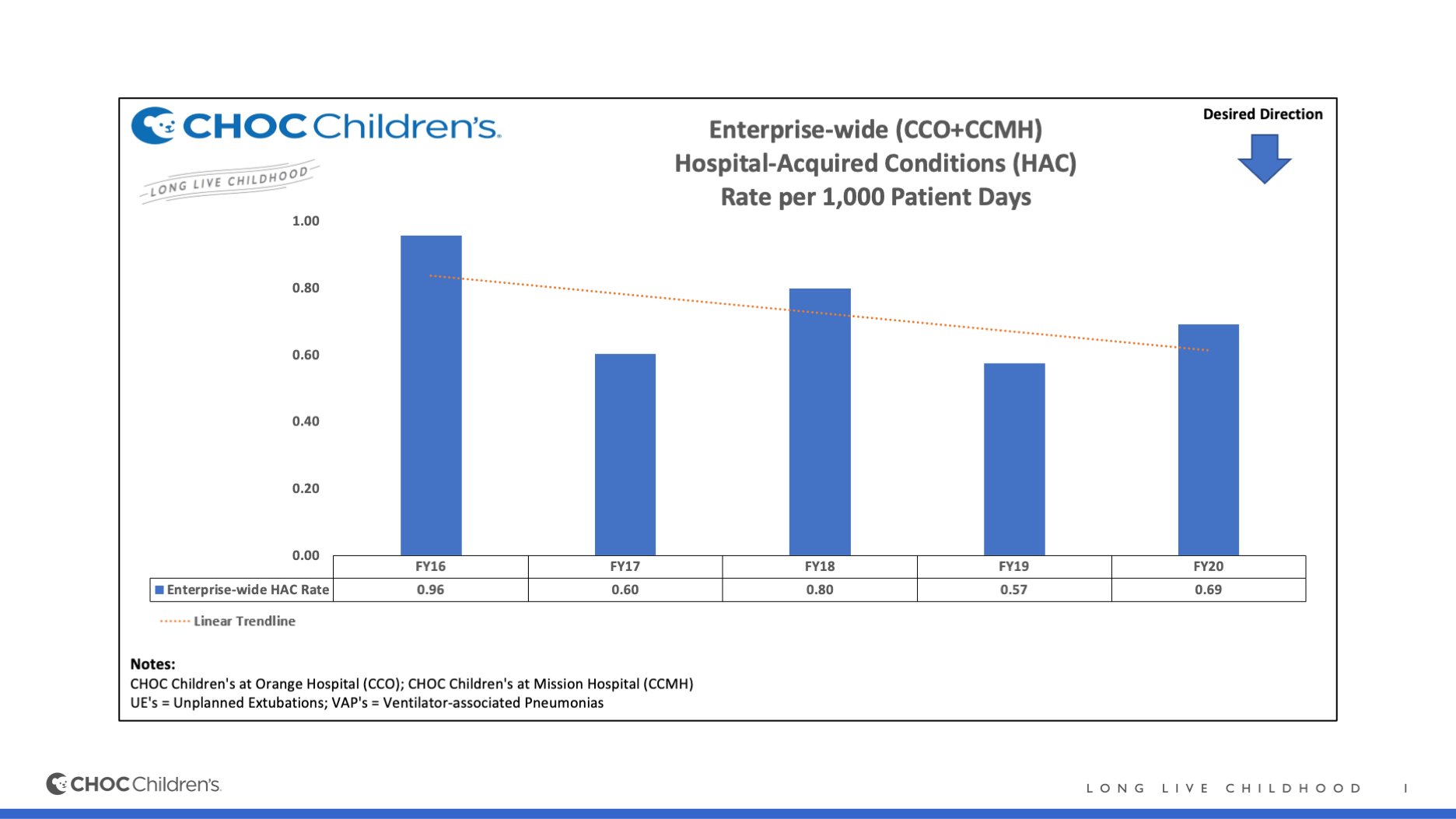 This graph shows a favorable trend in reducing the number of Hospital-Acquired Conditions at CHOC in the last 4 years. The apparent increase in Fiscal Year 18 is due to a measurement change that allowed a larger number of these events to be included in the definition.
---
Asthma care management
At CHOC, we specialize in diagnosing and treating kids with asthma. We use nationally endorsed clinical guidelines for treating acute episodes and helping you and your child prevent symptoms from worsening. If your child is hospitalized for asthma, these are some ways we measure how well we treat children with asthma.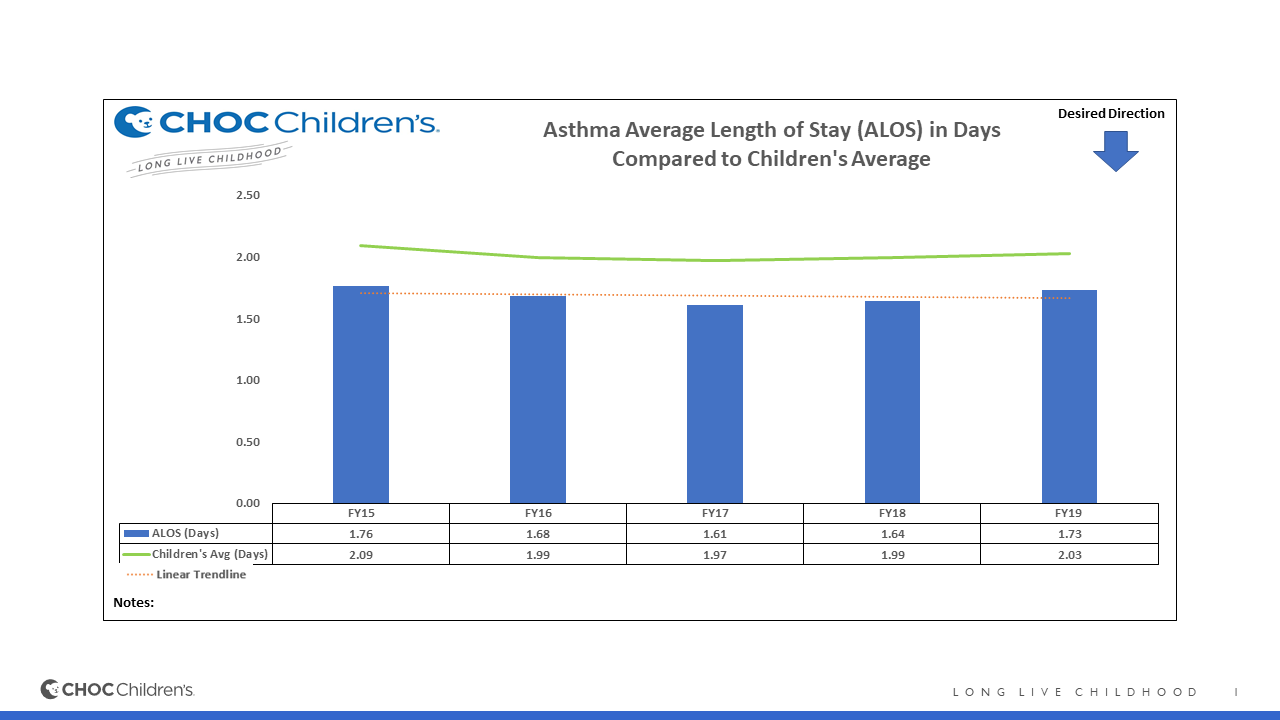 The number of days a child with asthma stays in the hospital at CHOC is consistently less than the national average for other children's hospitals.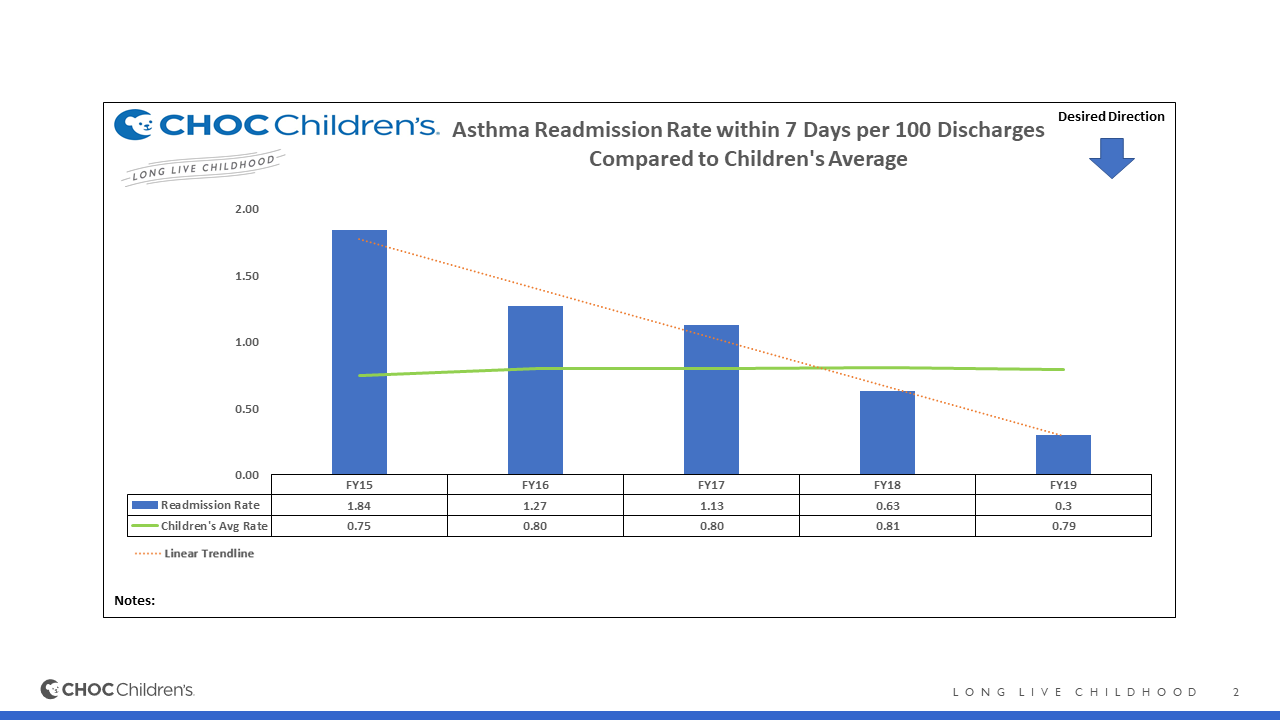 We know we're successful in treating asthma and educating about care when patients don't need to come back to the hospital. CHOC's performance in this area has consistently improved, and 2018 rates for readmissions within seven days were less than the national average.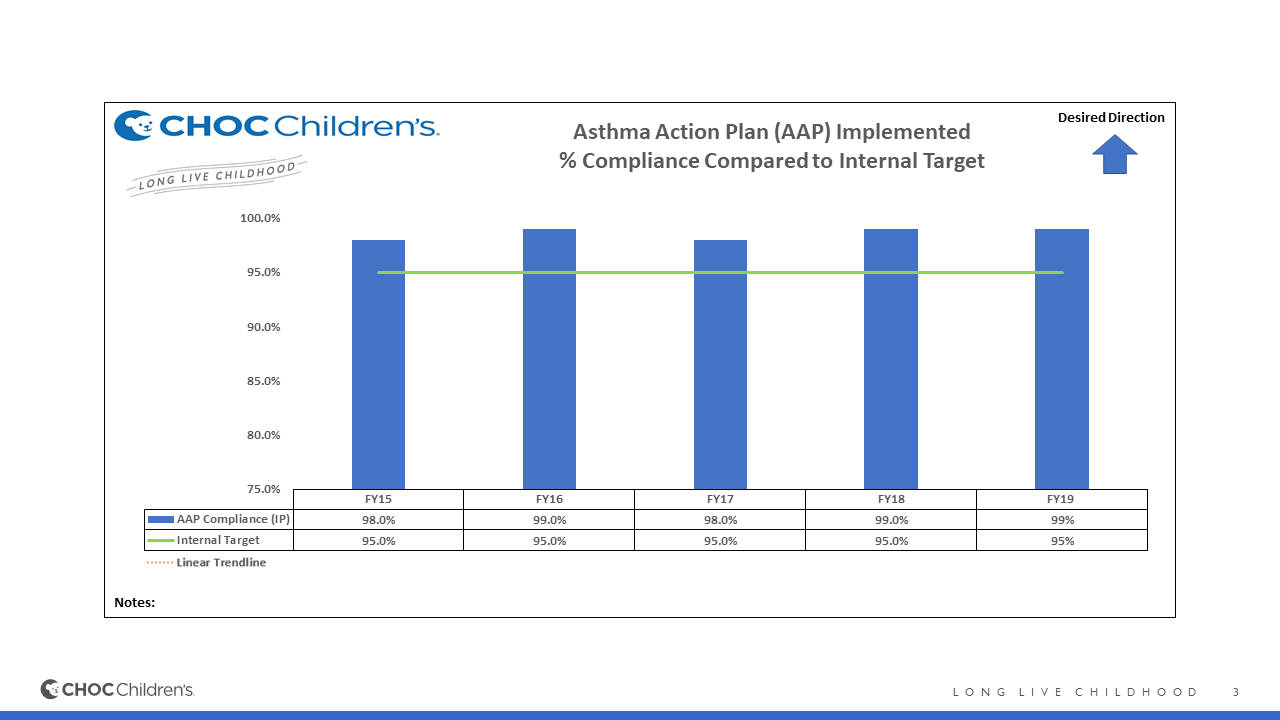 We set the bar high when it comes to communicating about your child's treatment. The care team reviews your Asthma Action Plan (AAP) before you leave the hospital.
---
Keeping Your Child Well
The American Academy of Pediatrics recommends that all children, between 3 and 6 years of age, receive an annual check-up with their pediatrician. These visits are designed to assess growth and development, screen for early signs of disease, and provide education regarding safety and prevention. Additionally, these visits provide an opportunity for children to receive recommended childhood immunizations, designed to prevent disease. By following this recommended schedule, you can take an active role in assuring your child remains happy and healthy in ensuring children 3 to 6 years old receive annual well child visits.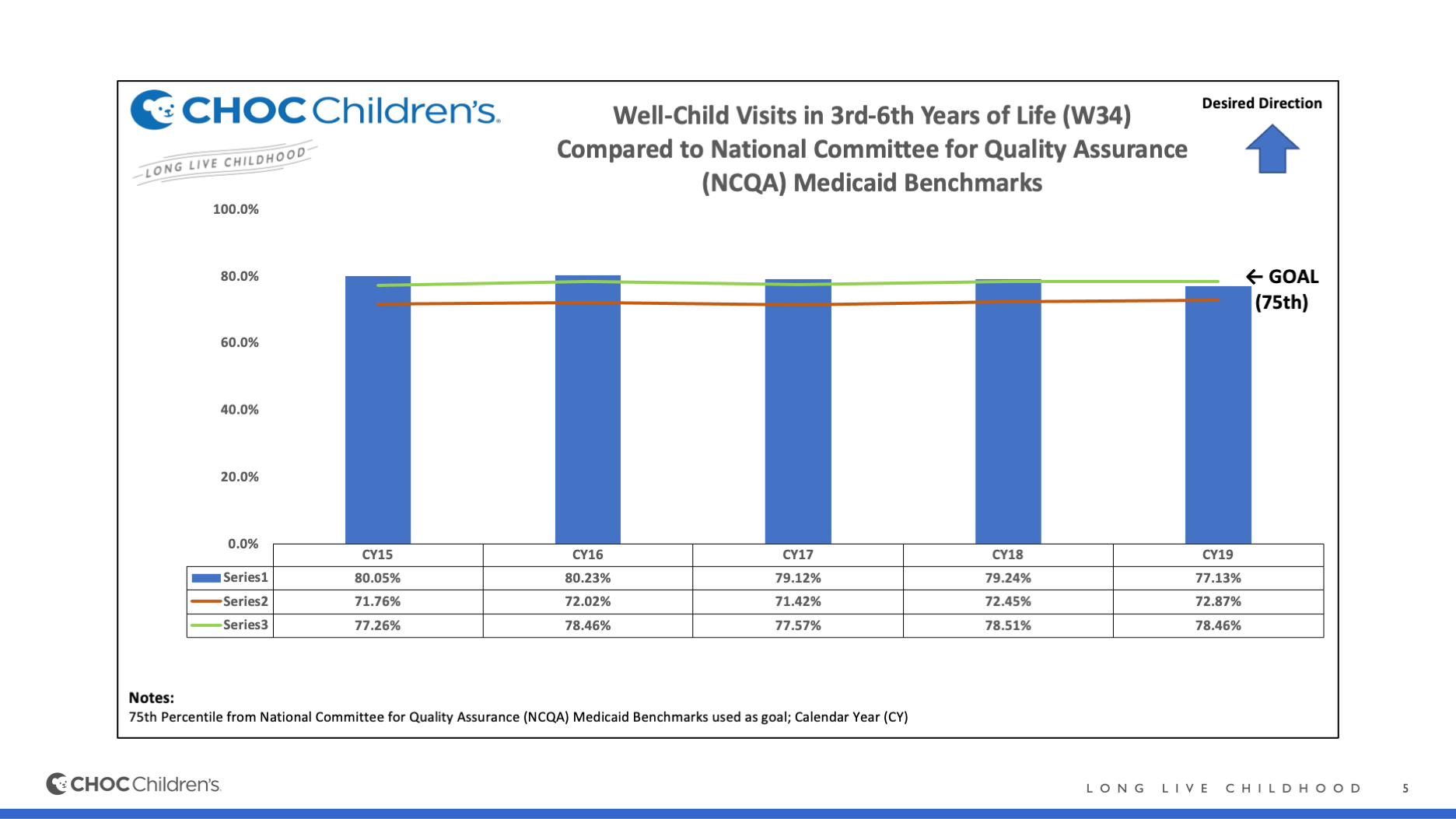 For the last 4 years, more than 79% of CHOC 3 to 6 year-old children receive their Well Child Visits, which is much higher than the national average of approximately 72%.
There are many important reasons to assure children entering adolescence are receiving timely medical care. Adolescence is a time of tremendous growth and numerous developmental changes related to ongoing maturity. Annual visits with your pediatrician are a wonderful way to assure your developing young adult is following the expected growth and developmental milestones for her/his age. These annual visits are also important because adolescence is a time where young people take risks and have a much higher incidence of accidents and injuries. Part of the annual adolescent well care visit deals with education around accident and injury prevention as well as counseling on safe practices as the child develops. In addition, there are a number of very important immunizations adolescents require that boost immunity from childhood vaccines and help protect against certain forms of cancer. Please remember to have your maturing adolescent ages 12 and older evaluated on an annual basis to ensure the best possible outcomes for their future. The relatively low numbers across the country show how difficult it can be to deliver necessary care to adolescent children.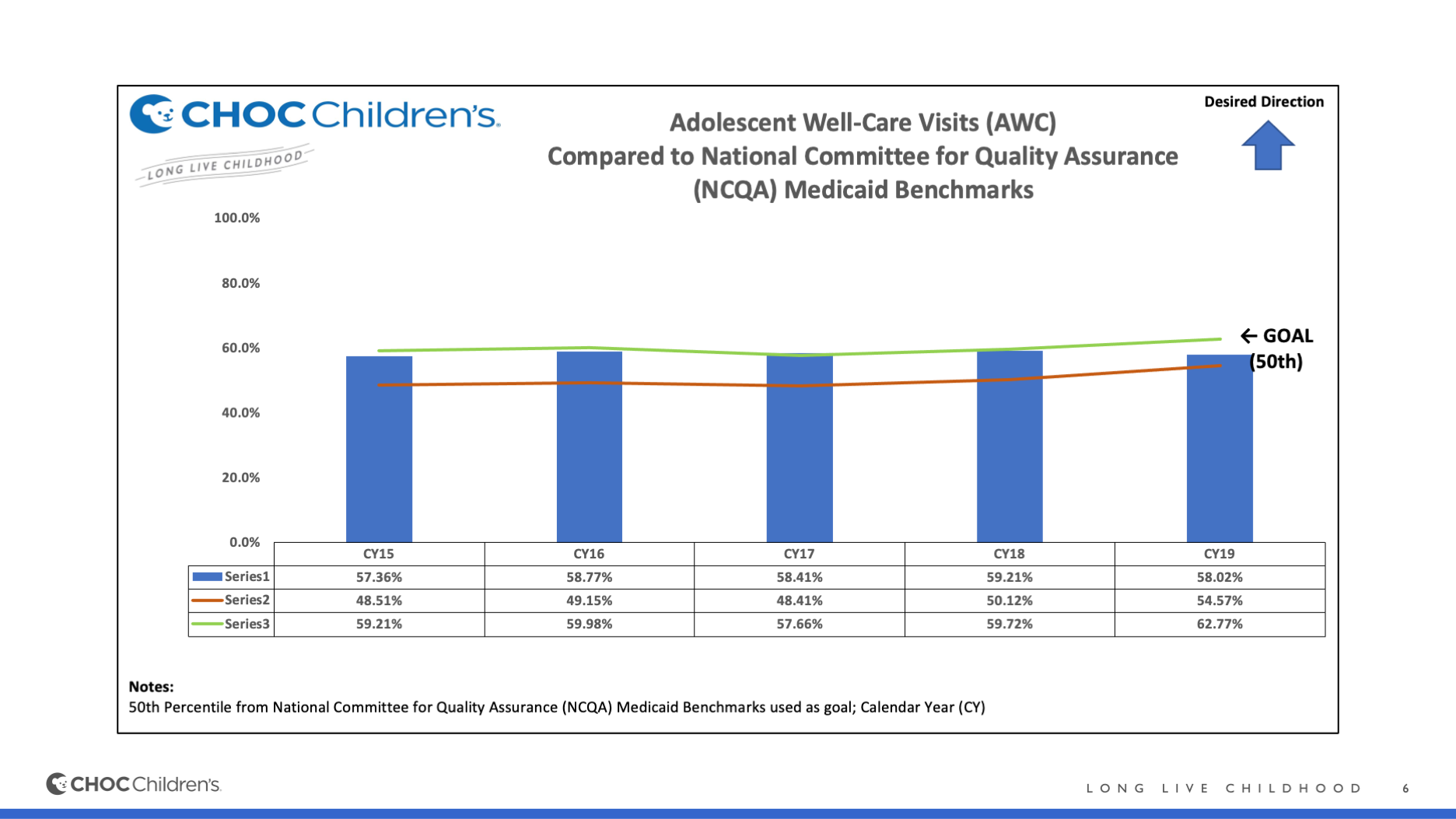 More than 59% of CHOC adolescent patients make their Well Care Visits, which is much higher than the national average of 50%.
---
Patient Experience
Our team is dedicated to providing world-class care, and the best CHOC experience for our patients and their families. As partners in care, we regularly reach out to our families after a visit or hospitalization and ask them to respond to a survey that uses a nationally recognized vendor, NRC Health. The patient experience scores, ratings and feedback help us improve patient experience, as well as celebrate our successes and recognize staff.
Our goal is to provide you or prospective patients and families with more objective and meaningful information into the patient and family experience. The data in this graph displays the overall rating of a visit or hospitalization, sometimes referred to as "top box scores." Responses for this question are measured on a scale of zero to 10, with 9 and 10 being the "top box", or best hospital stay or visit possible.
NRC Health provides us with national pediatric comparative benchmarks.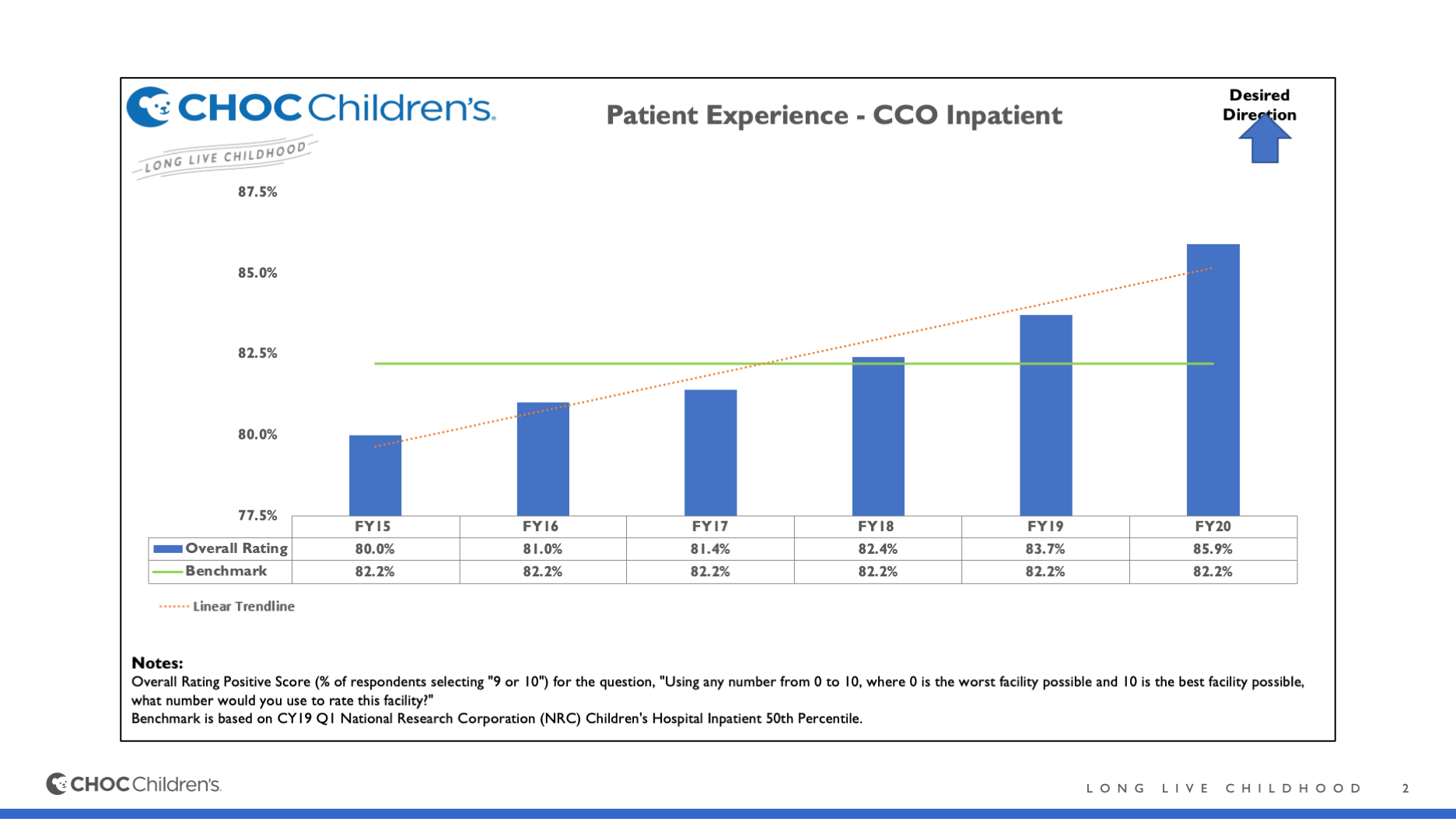 CHOC Inpatient results show improvement over 5 years with Fiscal Years 2018 and 2019 performing better than the Children's Hospitals Benchmark.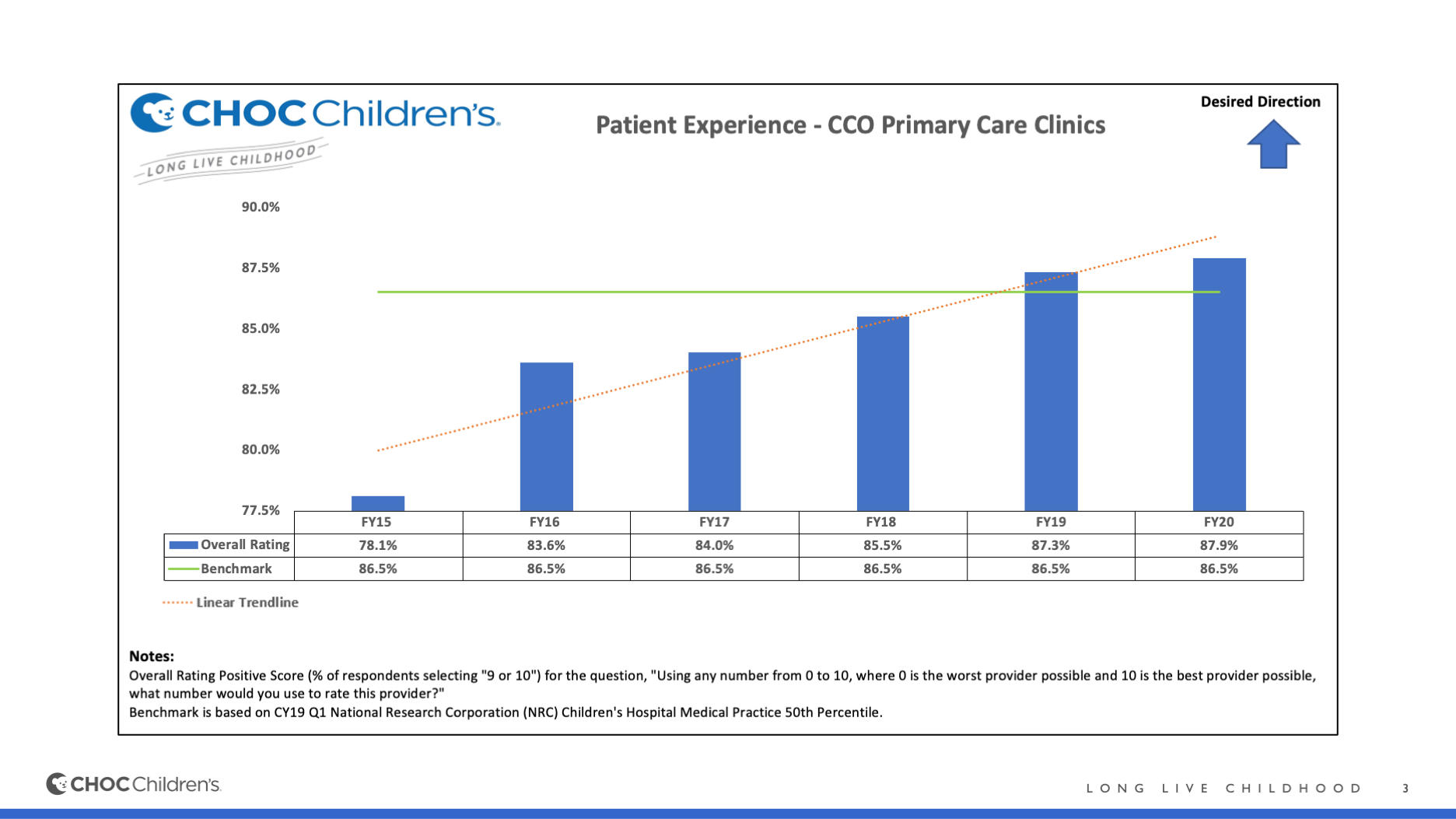 CHOC Primary Care Clinics results show improvement over 5 years with Fiscal Year 2019 performing better than the Children's Hospitals Benchmark.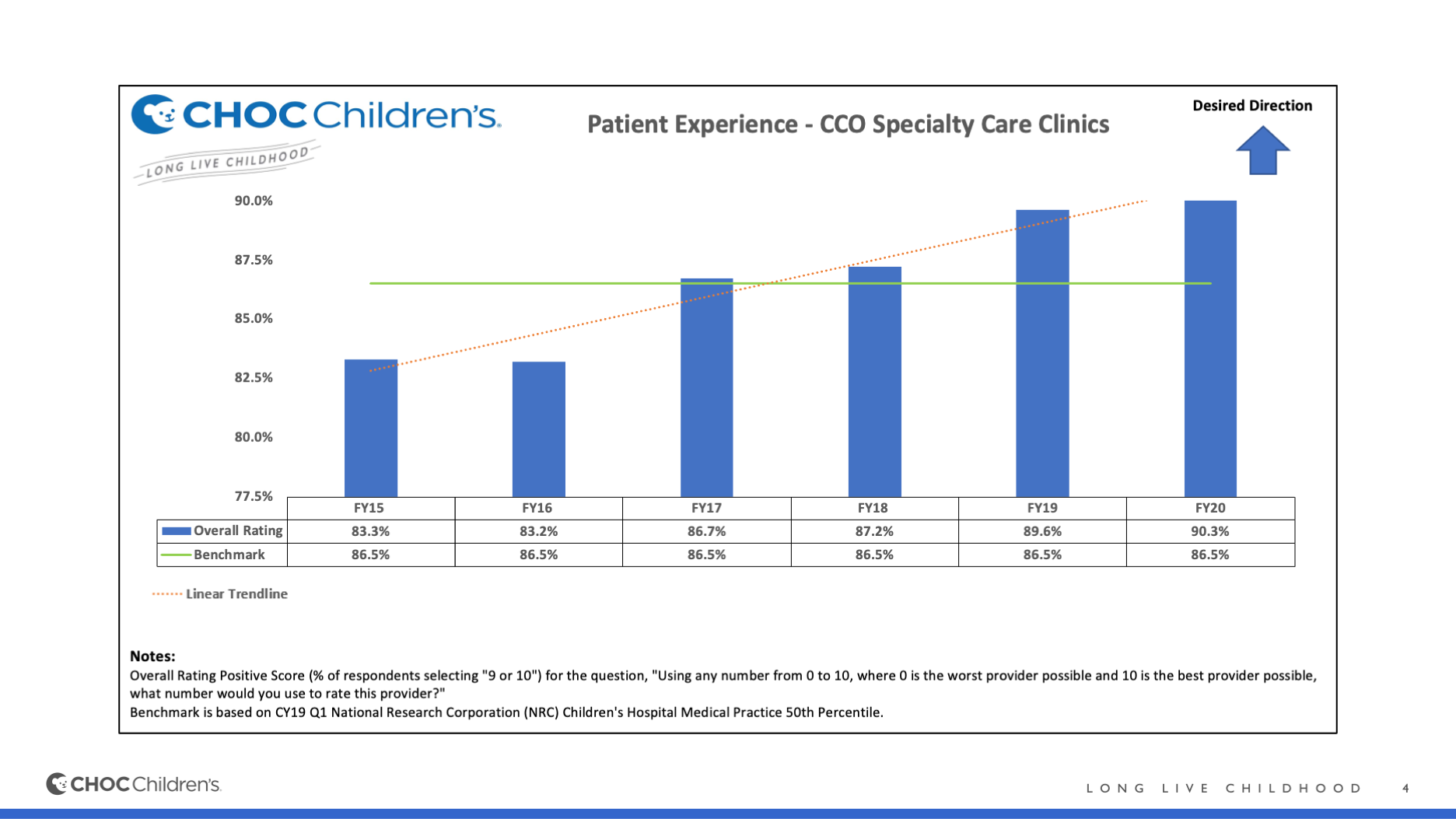 CHOC Specialty Clinics results show improvement over 5 years with Fiscal Years 2017, 2018 and 2019 performing better than the Children's Hospitals Benchmark.
---
Serious Safety Events
Reducing medical error and the possible harm that it can cause is one of the most important things that hospitals, clinics and offices can do. This can be very challenging given how complex medical care can be. Nonetheless, our highest goal is to eliminate patient harm.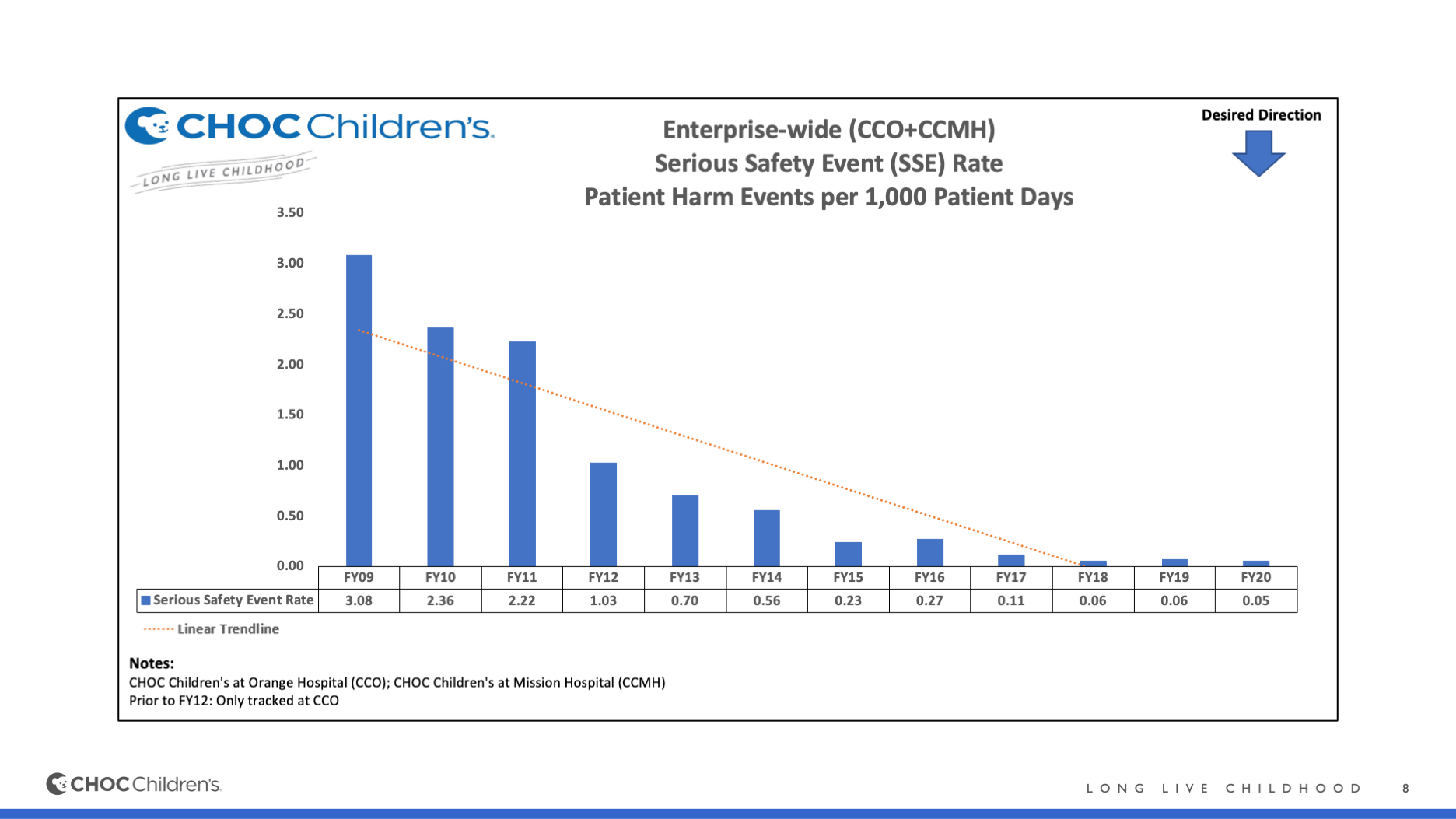 At CHOC, we measure serious harm events that we feel were preventable. This graph shows that due to our efforts to improve quality, patient safety and healthcare design, while also improving the engagement of patients and families, these events have decreased over 95% in the last 10 years (FY = Fiscal Year).