Dr. Neal Nakra, Pediatric Pulmonology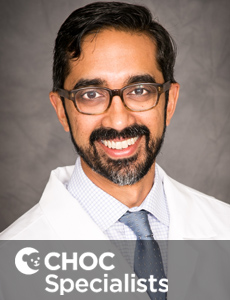 ---
Neal Nakra MD

Appointments:
888-770-2462
Office: 714-509-8622
Specialty: Pulmonology
Board Certified: Pediatrics, Pediatric Pulmonary, Sleep Medicine
As medical director of the CHOC pediatric sleep program, Dr. Neal Nakra leads the team in performing sleep studies and analyzing data to further the study of relationships between sleep and obesity, metabolic syndrome and other pediatric conditions.   Under his leadership, the CHOC Sleep Center has  increased in volume and has become one of the largest programs in the state. Dr. Nakra continues to grow the program further and to work with CHOC pediatric subspecialties on developing treatment programs.
Dr. Nakra graduated medical school from the University of Texas Medical School at San Antonio, Texas.  He completed his pediatrics residence at St. Vincent Hospital and Medical Center, New York.  He served his pulmonary disease fellowship at Yale University School of Medicine, New Haven, Connecticut.  Dr. Nakra is triple board certified in pediatrics, pulmonology and sleep medicine.
"Sleep inherently deserves multidisciplinary treatment with other pediatric subspecialties," says Dr. Nakra, who is working with CHOC otolaryngologists, plastic surgeons and endocrinologists. "One of the joys of practicing sleep medicine at CHOC is the ability to collaborate on a multidisciplinary platform, pick the brains of the best and brightest in the fields, and work together to help the kids of Orange County."
Neal Nakra MD is on staff at CHOC Hospital in Orange .
Locations
CHOC Specialists, Pulmonology
1201 W La Veta Ave
Orange, CA 92868
phone: 714-509-8622
fax: 714-509-3601
CHOC Clinic
1201 W. La Veta Ave. Building: CHOC Clinic
Orange, California 92868
phone: 888-770-2462
fax: 855-246-2329
CHOC Health Center – Mission Viejo
26691 Plaza, Suite 130
Mission Viejo, CA 92691
CHOC Health Center Huntington Beach
19582 Beach Blvd, Suite 380
Huntington Beach, CA 92648
Education
Medical School
University of Texas Medical School at San Antonio, San Antonio, TX
Pediatrics Residency
St Vincent Hospital and Medical Center, NY
Pulmonary Disease Fellowship
Yale University School of Medicine, New Haven, CT
Academic Appointments
Associate Clinical Professor, UCI Department of Pediatrics
Administrative Appointments
Medical Director, Pediatric Sleep Program (Sleep Center), CHOC
Pulmonology, CHOC Specialists
Our pulmonologists commonly treat: 
Asthma
Pulmonary hypertension
Muscular dystrophy
Spinal muscular atrophy
Recurrent pneumonia
Pediatric sleep disorders/sleep apnea
Upper airway abnormalities
Infant apnea
Pulmonary complications of complex medical conditions
Chronic cough
Chronic lung disease
Tracheotomy care
Congenital lung abnormalities
Neuromuscular problems
Respiratory syncytial virus prevention
Lectures and Presentations
Grand Rounds: Obesity, Metabolic Syndrome, and Obstructive Sleep Apnea
CHOC Hospital, Orange, CA
Pediatric Grand Rounds: Advances and Updates on Obstructive Sleep Apnea in Pediatrics
PIH Health, Whittier, CA
Sleep, Children, and Memory
William Paterson University Children's Health Series, Wayne, New Jersey
Update of Pediatric Asthma
Passaic New Jersey School District Nurses
Podcasts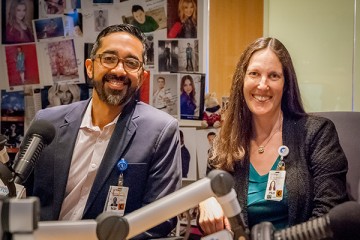 Does My Child Have a Sleep Disorder?
Healthy sleep is critical for children and teens. Sleep disorders, such as problems falling asleep and sleep apnea, affect your child's ability to get the sleep needed for good growth, development and overall health.
Health Topics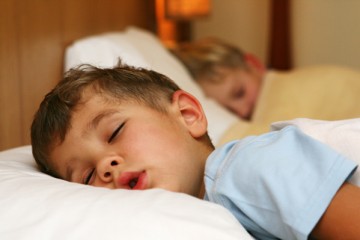 Kids and Sleepwalking
Sleepwalking, also known as somnambulism, is a condition in which a sleeping person appears to be awake and exhibits behaviors associated with being awake, but is actually still asleep.