Dr. Chana I. Chin, Pediatric Pulmonology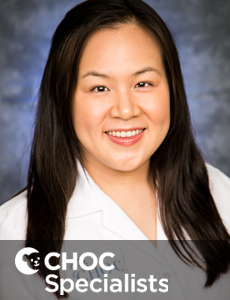 ---
Chana I Chin MD

Appointments:
888-770-2462
Office: 714-509-8622
Specialty: Pulmonology
Board Certified: Pediatrics, Pediatric Pulmonology
Additional Languages: Thai, Spanish
Dr. Chin is board certified in pediatric pulmonology who treats kids and teens in Orange County.
Chana I Chin MD is on staff at CHOC Hospital in Orange and CHOC Mission Hospital.
Locations
CHOC Clinic
1201 W. La Veta Ave. Building: CHOC Clinic
Orange, California 92868
phone: 888-770-2462
fax: 855-246-2329
Education
Medical School
Albert Einstein School of Medicine, Bronx, NY
Pediatric Pulmonology Fellowship
Children's Hospital of Los Angeles, CA
Pediatrics Residency
Children's Hospital of Los Angeles, CA
Academic Appointments
Assistant Clinical Professor, UC Irvine
Administrative Appointments
Pulmonology, CHOC Specialists
Honors and Awards
Ching-I Wong Research Award for Outstanding Research in Pulmonology
Pilot Project Grant from the NIEHS (National Institute of Environmental Health Sciences)
Seed Grant from the AMA (American Medical Association)
Travel Award, Diffuse Lung Disease Research Conference
Lectures and Presentations
A Physician Survey Reveals Differences in Management of Idiopathic Pulmonary Hemosiderosis
Does Ozone Exposure Increase Apnea and Bradycardia?
Professional Organizations
American College of Chest Physicians
American Thorasic Society
The George Donnell Society for Pediatric Scientists
Our pulmonologists commonly treat: 
Asthma
Pulmonary hypertension
Muscular dystrophy
Spinal muscular atrophy
Recurrent pneumonia
Pediatric sleep disorders/sleep apnea
Upper airway abnormalities
Infant apnea
Pulmonary complications of complex medical conditions
Chronic cough
Chronic lung disease
Tracheotomy care
Congenital lung abnormalities
Neuromuscular problems
Respiratory syncytial virus prevention