Dr. Olga Guijon, Division Chief Primary Care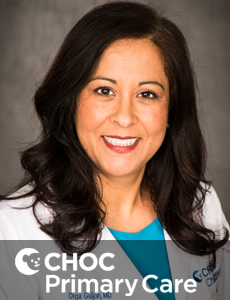 ---
Olga Guijon MD

Office: 714-509-8391
Specialty: Pediatrics
Board Certified: Pediatrics, Asthma Educator (NAECB)
Additional Languages: Spanish
Dr. Guijon is board certified in pediatrics and is a member of the CHOC Primary Care Network who treats kids and teens in Orange County.
Olga Guijon MD is on staff at CHOC Hospital in Orange .
Locations
CHOC Primary Care Clinic
3745 W. Chapman Ave.
Orange, CA 92868
phone: 714-509-8391
fax: 855-212-6740
Education
Medical School
UCSD School of Medicine, La Jolla, CA
Pediatrics Residency
Cedars-Sinai Medical Center, Los Angeles, CA
Administrative Appointments
Division Chief Primary Care
Awards:
2009 – CHOC Hospital Family Centered Care Physician Champion Award
2001 – Volunteer Attending of the Year- University of California, Irvine Department of Pediatrics
Research:
Puckett JL, Taylor RWE, Leu Szu-Yun, Guijon O, Aledia AS, Galant SP, George SC. An elevated bronchodilator response predicts large airway inflammation in mild asthma. Ped. Pulm, 45(2):174-181, 2010
Puckett JL, Taylor RW, Leu SY, Guijon OL, Aledia AS, Galant SP*, and George SC*. Clinical patterns in asthma based on proximal and distal airway nitric oxide categories. Respir Res. 2010 Apr 28;11:47.doi; 10.1186/1465-9921-11-47.
Galant, S.P.; Tricia Morphew, MSc, Robert L. Newcomb, PhD., Kiem Hioe, MD; Olga Guijon, MD; Otto Liao, MD.  The Relationship of the Bronchodilator (BDR) Phenotype to Poor Asthma Control in Children with Normal Spirometry. J Pediatr, Vol158,/6:953-959.e,2011
Galant SP, Morphew T, Pham L, Guijon O. The Bronchodilator Response as a Predictor of Inhaled Corticosteroid Responsiveness in Asthmatic Children with Normal Baseline Spirometry. Pediatr Pulmonol. 2014. Feb 16