Dr. Cynthia Dimalanta, Pediatrics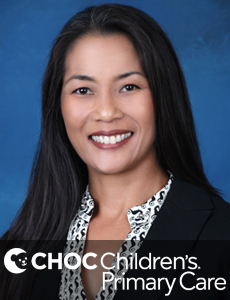 Dr. Dimalanta grew up in San Diego and spent her college years in the Bay Area where she met her husband, Ramon, while attending UC Berkeley. After graduating, they transplanted themselves to Orange County to study at UC Irvine; Dr. Dimalanta attended the medical school while her husband earned his PhD in engineering.
After completing her medical degree and pediatrics residency through UC Irvine, Dr. Dimalanta practiced medicine part-time in various urgent care settings as she and her husband started their family.  She has been a resident of the Rancho Santa Margarita area since 2002.  For more than 10 years, she continued practicing part-time at Kids Doc Urgent Care while balancing the tasks of motherhood.
"The trust that parents give to pediatricians in caring for their children is so special.  I truly take that to heart as I build a relationship with families, educating parents and patients alike, and helping them through well-visits and illnesses. I love being a part of their growth."
Location
Southern Orange County Pediatric Associates
Rancho Santa Margarita Office
30212 Tomas, Suite 220
Rancho Santa Margarita, CA 92688
phone: 949-858-1100
fax: 949-858-1820
Education
Medical School
University of California Irvine, Irvine, CA
Internship
University of California, Irvine, Irvine, CA
Residency
University of California, Irvine, Irvine, CA
Cynthia Dimalanta MD

Appointments:
949-770-0513
Specialty: Pediatrics
Board Certified: Pediatrics
On Staff at: CHOC at Mission Hospital
Locations
30212 Tomas
Suite 220
Rancho Santa Margarita, CA 92688