Dr. Anjali Monga, Pediatrics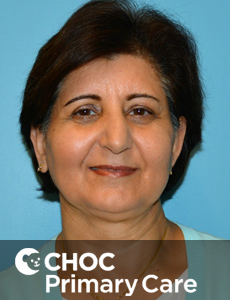 ---
Anjali Monga MD

Appointments:
949-733-2800
Specialty: Pediatrics
Board Certified: Pediatrics
Additional Languages: Punjabi, Hindi, conversational Spanish and Arabic
Dr. Anjali Monga trained in medical school in both India and United Kingdom. She received her medical degree from Govt. Medical College, Jammu, India and did her initial post graduate training in OBGyn at the Royal College of Obstetrics and Gynecology in London, United Kingdom. Practicing OBGyn in England,Dr Monga always felt her calling in medicine was more towards care of newborn babies she help deliver and health and well being of children. She subsequently completed a second residency in Pediatrics at CHOC Hospital in Orange, CA.
Dr. Monga is board certified by the American Board of Pediatrics. She has now been in active practice of general pediatrics in Irvine, CA for the last 15 years. Given her OB Gyn background she has an additional special interest in Adolescent Medicine. Over the years she has been a very popular and respected pediatrician in the community and has been the recipient of multiple outstanding pediatrician awards from Orange County Medical Association and other peer groups. Her office additionally has been recognized for quality excellence by number of healthcare IPA's and other insurance organizations.
Dr. Monga is committed to preventive pediatrics and through her membership of the local chapter of the American Academy of Pediatrics (AAP) has been a solid advocate of healthcare policies and initiatives of the AAP. She also has been very supportive of educational needs of underprivileged children in developing countries through her membership and support of organizations such as Ekal Vidyalaya.
Dr. Monga also speaks fluent Punjabi and Hindi. She is on staff at St Joseph's Hospital in Orange, CA and Hoag Presbyterian Hospital in Newport Beach, CA.
Locations