Dr. Donald Shaul, Pediatric Surgery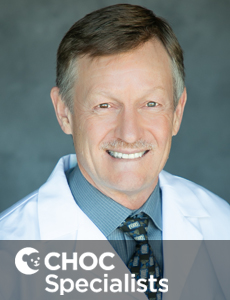 ---
Donald B. Shaul MD, FACS

Office: 714-364-4050
Specialty: Pediatric Surgery
Board Certified: Pediatric Surgery; General Surgery
Dr. Donald Shaul is a board-certified pediatric surgeon at CHOC in Orange County, California. He specializes in colorectal surgery in CHOC's Colorectal and Bowel Management Program. With over 30 years of experience, he has performed hundreds of life-saving surgeries, specializing in correcting the lower intestines of babies born with birth defects such as imperforate anus and Hirschsprung's disease.
Dr. Shaul attended UCLA Medical School, where he fell in love with pediatric surgery. After completing residency at UC Davis, he was trained in both pediatric surgery and pediatric urology during his fellowships at Children's Hospital Los Angeles. He is eager to offer his unique expertise and strives to advance CHOC's treatment of children with complex colorectal conditions.
Dr. Shaul is looking forward to serving as a resource to other children's hospitals both in surrounding regions and nationwide through data sharing. In the future, CHOC's colorectal team will contribute treatment data to a national database on outcomes for patients with colorectal disorders. "Because some of these diseases are so rare, one hospital won't see very many cases," says Dr. Shaul. "Children's hospitals need to work together to share and discover the best care and treatment strategies for patients."
In his free time, Dr. Shaul enjoys spending time outdoors. He is an avid fly fisherman and likes to golf, ski and exercise with his wife and friends.
Donald B. Shaul MD, FACS is on staff at CHOC Hospital in Orange .
Location
CHOC Specialists, Surgery
Commerce Tower
505 S. Main Street, Suite 225
Orange, CA 92868
phone: 714-364-4050
fax: 714-364-4051
Education
Medical School
UCLA David Geffen School of Medicine, Los Angeles, CA
Residency
UC Davis Medical Center, Sacramento, CA
Fellowship
Children's Hospital of Los Angeles, Los Angeles, CA