Dr. Ali Nael Amzajerdi, Pediatric Pathology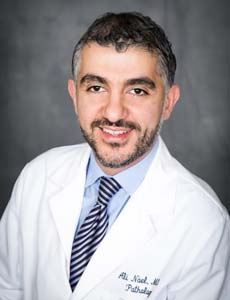 ---
Ali Nael Amzajerdi MD

Appointments:
714-771-8176
Specialty: Pathology
Board Certified: Pathology, Pediatric Pathology, Hematopathology
Additional Languages: Farsi
Dr. Nael Amzajerdi is a board certified pediatric pathologist who identifies diseases in kids and adolescents at CHOC.
Ali Nael Amzajerdi MD is on staff at CHOC Hospital in Orange .
Location
CHOC Pathology
1201 W La Veta Ave
Orange, CA 92868
phone: 714-771-8176
fax: 714-744-8613
Education
Medical School
Shiraz University of Medical Sciences, Iran
Pathology Residency
UCI Medical Center, Orange, CA
Pediatric Pathology Fellowship
Children's Hospital Los Angeles, Los Angeles, CA
Hematopathology Fellowship
Los Angeles County + University of Southern California Medical Center, Los Angeles
Administrative Appointment
Chair, Department of Pathology
CHOC Hospital, Orange, CA
Academic Title
Health Sciences Assistant Clinical Professor
Department of Pathology, UC Irvine School of Medicine, Irvine, California
Professional Organization
UC Irvine University Physicians & Surgeons, Affiliate
Publications
Shestakova A, Nael A, Nora V, Rezk S and Zhao X. Automated leukocyte parameters are useful in the assessment of myelodysplastic syndromes. Clinical Cytometry. Epub 2020 October 1st.
Johnston RC, Faulkner M, Carpenter PM, Nael A, Haydel D, Sandman CA, Wing DA, Davis EP. Associations Between Placental Corticotropin-Releasing Hormone, Maternal Cortisol, and Birth Outcomes, Based on Placental Histopathology. Reprod Sci. 2020 Sep;27(9):1803-1811.
Shestakova A, Rezk S, Ghasemizadeh D, Nael A, Zhao X. High-grade B-cell Lymphoma with MYC and BCL2 Rearrangement Arising from Follicular Lymphoma: Presentation as a Large Peripancreatic Mass. Diagnostics (Basel). 2020 Mar 14.
Martynova A, Nael A, O Neill C, Ramsingh G, Merchant A, Yaghmour B, Yaghmour G. Aggressive systemic mastocytosis: midostaurin is safe, feasible and associated with durable response post-haploidentical allogeneic stem cell transplant. Br J Haematol. 2019 May 21.
Chang MR, Chon AH, Baskin J, Nael A, Chmait RH. Case 1: Cardiac Arrest in a 2-month-old Boy with a Prenatal Course Complicated by Alloimmunization. Pediatr Rev. 2019 May;40(5):243-246.
Glavis-Bloom J, Nahl D, Rubin EM, Nael A, Dao T. Congenital neuroglial choristoma of the foot. Radiol Case Rep. 2019 Apr 2;14(6):718-722.
Hermel DJ, Nael A, Lu YT, Kim J, Brynes RK, Vergara-Lluri M, Akhtari M. Gelatinous bone marrow transformation and emergence of clonal Philadelphia-negative cytogenetic abnormalities with excess blasts in a patient with chronic myeloid leukemia treated with dasatinib. Anticancer drugs. 2019 Apr;30(4):416-421.
Farrell D, Nael A, Law T, Zhao X, Weiss LM, Rezk SA. Epstein–Barr virus (EBV) incidental expression in bone marrow cells, a study of 230 consecutive bone marrow biopsy samples. Hum Pathol. 2019 Apr 1.
Nael A, Wu W, Siddiqi I, Zhao X, Kahlon K and Rezk AS. Epstein-Barr Virus Association with Plasma Cell Neoplasms. Histol Histopathol. 2018 Nov 19 (Epup ahead of print).
Moke D, Thomas SM, Hiemenz MC, Nael A, Wang K, Shillingford N, Biegel JA and  Mascarenhas L. Three Synchronous malignancies in a patient with DICER1 Syndrome. European Journal of Cancer. 2018 Apr,93:140-143.
Sarkissian SV, Amzajerdi AN, Rezk SA. Hemophagocytic lymphohistiocytosis in a patient with extranodal natural killer lymphoma, nasal type, complicated by bone marrow and central nervous system involvement. The New Armenian Medical Journal. 2017 June; 11(2):10-15.
Vaziri Fard E, Nael A, Lin F, Nangia C, Wang BY. Primary osteosarcoma of the parotid gland: A case report and literature review. Case Reports in Clinical Pathology. 2016 Sep 8; 3 (4):61-65.
Nael A, Walavalkar V, Wu WW, Nael K, Rezk S, Zhao X. CD4-positive T-cell Primary Central Nervous System Lymphoma in an HIV Positive Patient. American Journal of Clinical Pathology. 2016 Feb 12;145(2):258-265.
Nael A, Wu WW, Shane L, Rao N and Zwerdling T.  Primitive spindle cell neoplasm of ileum with extensive heterotopic cartilage, presenting as acute abdomen in a 6 day old neonate. Pediatric and Developmental Pathology. 2016 Jul-Aug;19(4):338-44.
Nael A, Siaghani P, Wu WW, Nael K, Shane L and Romansky SG. Metastatic malignant ectomesenchymoma initially presenting as a pelvic mass: report of a case and review of literature. Case Report in Pediatrics. Epub 2014 Oct 27.
Wu WW, Chu J, Nael A, Rezk S, Romansky SG and Shane L.  Thyroid-like follicular carcinoma of the kidney in a young patient with history of pediatric acute lymphoblastic leukemia. Case Report in Pathology. Epub 2014 Jul 15.
Nael A, Wu ML, Nagesh Rao P, Rezk S, Zhao X.  Extranodal Marginal Zone Lymphoma Presenting within the Meckel's Diverticulum as Diverticulitis, a Case Report. Case Reports in Pathology. Epub 2014 Apr 28.
Nael A, Johnston A, Dacosta-lyer M, Ouyang Y, Deshmukh S, Lambrecht N. An Intimal Cardiac Sarcoma with overexpression of MDM2, First Presented as Intestinal Obstruction, a case report and review of literature. ASCP Case Reports. 2014; SP1404. Chicago, Illinois: American Society for Clinical Pathology