Dr. Michael Cho, Otolaryngology (ENT)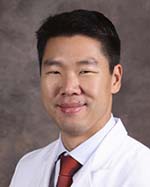 ---
Michael Cho MD

Appointments:
949-364-4361
Specialty: Otolaryngology (ENT)
Board Certified: Otolaryngology
Dr. Cho is board certified in Otolaryngology/Head and Neck Surgery and a Fellow of the American College of Surgeons. He has received his undergraduate degree in Biology at Massachusetts Institute of Technology (M.I.T.), where he was admitted into the Phi Beta Kappa Society and worked with Nobel Laureate, Dr. Tonegawa. He then obtained his Medical Degree from the University of California, San Francisco School of Medicine (UCSF), along with the Dean's prize in Research. This was in recognition for his work on growth factors in wound healing as a Howard Hughes Medical Institute Research Fellow. Dr. Cho then went on to complete a five year Residency at UCSF. He has several publications on wound healing, cholesterol granulomas of the ear, and reconstructive techniques in facial plastic surgery. His professional interests lie in ear surgery, advanced sinus surgery, head and neck cancer, pediatric otolaryngology, and facial reconstructive surgery.
Clinical Interests
Inner ear; accepts patients of all ages.
Michael Cho MD is on staff at CHOC Mission Hospital.
Locations
Head & Neck Associates of Orange County
26726 Crown Valley Pkwy, Suite 200
Mission Viejo, CA 92691
phone: 949-364-4361
fax: 949-364-4495
24411 Health Center Dr, Suite 370
Laguna Hills, CA 92653
phone: 949-364-4361
fax: 949-364-4495
Education
Medical School
University of California, San Francisco School of Medicine, San Francisco, CA
Internship
University of California, San Francisco School of Medicine, San Francisco, CA
Residency
University of California, San Francisco School of Medicine, San Francisco, CA