Dr. John A. Schlechter, Orthopedic Surgery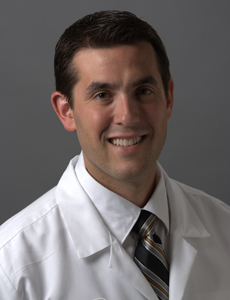 ---
John A Schlechter DO

Appointments:
888-770-2462
Office: 714-633-2111
Specialty: Orthopedic Surgery
Board Certified: Orthopedic Surgery
Dedicated to clinical excellence, Dr. Schlechter is a board-certified pediatric orthopaedic surgeon. Prior to joining CHOC, he attended medical school at the New York College of Osteopathic Medicine at the New York Institute of Technology. He served as chief intern at Peninsula Hospital Center, part of the North Shore University Health System in New York. Dr. Schlechter completed his orthopaedic surgery residency at Riverside County Regional Medical Center. He completed a pediatric orthopedic and scoliosis fellowship at Children's Hospital San Diego as well as a post-fellowship preceptorship in sports medicine and arthroscopy at the Orthopedic Specialty Institute in Orange, CA.
Recognized as a leader in pediatric sports medicine and orthopaedic fields, Dr. Schlecter is an active part of the clinical faculty for the Western University of Health Sciences. He serves as team physician for several local high schools. Dr. Schlechter has participated in several orthopedic mission trips to Santo Domingo, Dominican Republic and remains interested in international orthopedics. He is a member of the Pediatric Orthopedic Society of North America as well as the Arthroscopy Association of North America.
Clinical Interests
Sports Medicine, Pediatric Orthopedic Trauma, Cerebral Palsy, Foot and Ankle
John A Schlechter DO is on staff at CHOC Hospital in Orange .
Locations
CHOC Clinic
1201 W. La Veta Ave. Building: CHOC Clinic
Orange, California 92868
phone: 888-770-2462
fax: 855-246-2329
Adult and Pediatric Orthopaedic Specialists
1310 W Stewart Dr, #508
Orange, CA 92868
phone: 714-633-2111
fax: 714-633-5615
Adult and Pediatric Orthopaedic Specialists
25982 Pala Drive, #230
Mission Viejo, CA 92691
phone: 949-600-8800
fax: 949-600-8813
Education
Medical School
New York College of Osteopathic Medicine, Old Westbury, NY
Orthopedic Surgery Residency
Riverside County Regional Medical Center, Moreno Valley, CA
Pediatric Orthopedic & Scoliosis Fellowship
Children's Hospital San Diego, CA
Rotating Internship
Peninsula Hospital Center, Far Rockaway, NY
Academic Appointments
Clinical Professor of Surgery
Western University of Health Sciences College of Osteopathic Medicine of the Pacific, Pomona, CA
Lectures and Presentations
Fractures of the Child's Elbow
Osteochondritis Dissecans in the Adolescent Athlete
Pediatric Foot Conditions
Shoulder Examination in the Adolescent Athlete
The Use of Physician Extenders in a Pediatric Orthopedic Pratice
Upper Extremity Fractures in Children
Professional Organizations
American Academy of Orthopaedic Surgeons
American Osteopathic Academy of Orthopaedics
American Osteopathic Associations
Arthroscopy Association of North America
California Orthopedic Association
Pediatric Orthopaedic Society of North America
Western Orthopedic Association
Publications
Rubin BD, Schlechter, JA Principles of Shoulder Examination and Rehabilitation in AANA Advanced Arthoscopy: The Shoulder, Elsevier 2010, ISBN: 978-1-4377-0663-5
Gottschalk H, Sagoo D, Glaser D, Doan J, Edmonds E, Schlechter JA, Biomechanical Analysis of Pin Placement for Pediatric Supracondylar Humerus Fractures:Does Strating Point, Pin Size and Number Matter – In Press Journal of Pediatric Orthopedics (2012)
Schlechter JA, Summa S, Rubin BD. The Passive Distrac tion Test: A Clinical Exam MAneuver to Diagnose Superior Labral Pathology, Arthroscopy Vol 25, No 12, Dec, 2009: pp 1374-1379
Our orthopedic surgeons commonly treat:
Growth-related disorders and Osgood-Schlatter disease
Osteomyelitis
Videos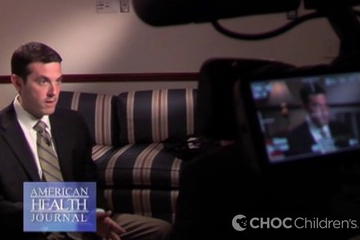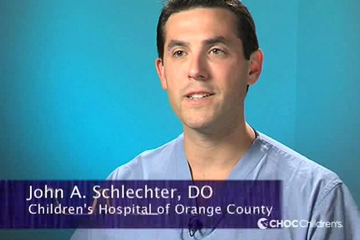 Podcasts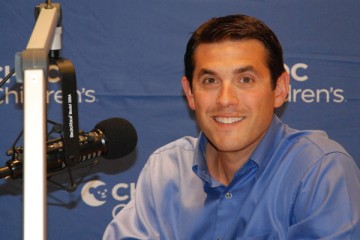 Health Topics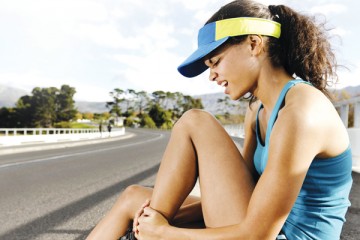 Sprains and Strains
A sprain is a stretch or tear in a ligament, the bands of fibrous tissue that connect our bones at the joints. A strain is also a stretch or tear, but it affects the muscle itself or a tendon.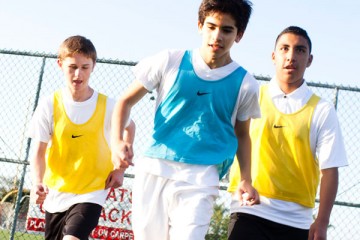 Kids and Common Sports Injuries
One of the most common sports injuries in children is from chronic repetitive stress. It is usually at the elbow, the wrist, the ankle, the knee or the foot.