Dr. Amirhossein Misaghi, Orthopedic Surgery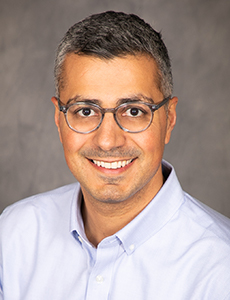 ---
Amirhossein Misaghi MD

Appointments:
888-770-2462
Office: 714-633-2111
Specialty: Orthopedic Surgery
Board Certified: American Board of Orthopedic Surgery
Additional Languages: Farsi, Spanish
Dr. Amirhossein Misaghi is a pediatric orthopaedic surgeon at CHOC Hospital in Orange, CA. As an expert in pediatric orthopaedics, Dr. Misaghi cares for babies, kids and teens with a wide variety orthopaedic and musculoskeletal oncology conditions. He specializes in fractures, limb/foot deformity, hip dysplasia, limb length discrepancy and rotational abnormalities. His specialty focus in pediatric orthopaedic oncology includes the treatment of both benign and malignant bone and soft tissue tumors such as unicameral bone cysts, aneurismal bone cysts, osteochondromas, Ewing sarcoma, steosarcoma and more.
Dr. Amirhosssein Misaghi is also a part of the Hyundai Cancer Institute at CHOC's Bone and Soft Tissue Sarcoma Treatment Program. The multidisciplinary group takes care of complex patients with the shared goal of providing the best care and getting them back to living happy, healthy lives.
"I love working with and helping others, and I was drawn to orthopaedics because I've always enjoyed using my hands to build and repair things. I also like working in pediatrics because I find kids fun and fascinating to be around. Oftentimes, especially when working with pediatric cancer patients, some very difficult situations and decisions arise, but I feel privileged to partner with families and navigate these challenges alongside them. Kids tend to do remarkably well and have incredible resilience, and I have encountered very powerful moments working in this field. It is an amazing feeling to witness my patients growing up and thriving."
Amirhossein Misaghi MD is on staff at CHOC Hospital in Orange .
Location
CHOC Clinic
1201 W. La Veta Ave.
Orange, CA 92868
Education
Medical School
University of California, San Diego School of Medicine