Dr. Ramin Tayani, Ophthalmology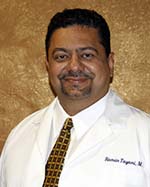 ---
Ramin Tayani MD

Appointments:
949-489-2218
Specialty: Ophthalmology
Board Certified: Ophthalmology
Additional Languages: Spanish
Dr. Tayani attended medical school at the Univeristy of California, Irvine. He completed his internship at Yale University and his residency at The Eye Institute Medical College of Wisonsin. He performed a fellowship at Harvard University, in Ophthalmic Plastic and reconstructive Surgery, Ocular Oncology and Ophthalmic Pathology. He is affiliated with the American Academy of Ophthalmology, American Medical Association, California Medical Association, Orange County Medical Association, Assoc for Research in Vision & Ophthalmology and the Alpha Epsilon Delta National Medical Honor Society. Honors include Chief Resident, Dept of Ophthalomolgy at The Eye Institute, Medical College of Wisconsin and President, Alpha Epsilon Delta National Premed Honor Society, Irvine chapter.
Dr. Tayani has additional offices in Irvine, Costa Mesa, Lake Arrowhead and Big Bear.
Clinical Interests
Orbital - Facial Plastic Surgery, Ophthalmic Plastic and Reconstructive Surgery
Ramin Tayani MD is on staff at CHOC Mission Hospital.
Locations
26726 Crown Valley Pkwy, Suite 220
Mission Viejo, CA 92691
phone: 949-489-2218
fax: 949-496-3604
Tayani Eye Institute
653 Camino de los Mares, Suite 107
San Clemente, CA 92673
phone: 949-489-2218
fax: 949-496-3604
Education
Medical school
UC Irvine, School of Medicine
Ophthalmology Residency
The Eye Institute, Medical College of Wisconsin
Internship
Yale University, School of Medicine
Fellowship
Ophthalmic Plastic/Reconstructive Surgery