Dr. Sonia Morales, Pediatric Oncology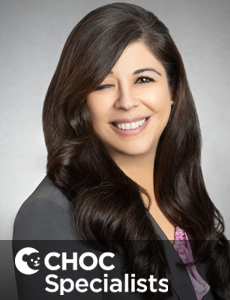 ---
Sonia Morales MD

Office: 714-509-4592
Specialty: Oncology
Board Certified: Pediatrics
A bout with an optic glioma as a toddler didn't keep Dr. Sonia Morales from making the most of her childhood and adolescence, and working toward a future career as a pediatric oncologist.
An avid reader as a child, Dr. Morales was captivated by a novel in which a teenaged character was diagnosed with leukemia. Using a dial-up modem, she searched online for more information about the condition and came across Camp Ronald McDonald for Good Times, a program that provides residential camping experiences for children with cancer. Dr. Morales waited patiently until she was 18 and then applied to become a camp counselor.
From there, the interest continued to root and she pursued her passion as an undergraduate student at UCLA. There, Dr. Morales met one of her mentors who was doing survivorship research and needed someone to transcribe interviews.
Dr. Morales went on to earn her medical degree from the Program In Medical Education (PRIME) at the Charles Drew University School of Medicine and Science/ David Geffen School of Medicine. While in medical school, she received her master's degree in public health, with an emphasis in health policy and management from the Fielding School of Public Health at UCLA.
From there, Dr. Morales completed her chief residency and pediatrics training at Harbor-UCLA Medical Center. She's also held various leadership positions within the Latino Medical Student Association and the National Hispanic Medical Association.
Throughout her three-year hematology/oncology fellowship at CHOC, Dr. Morales' passion has translated into the care of children, teens and young adults at the Hyundai Cancer Institute.
Dr. Morales was among the inaugural cohort of physicians to be trained in the Bristol Myers Squibb (BMS) Foundation Diversity in Clinical Trials Career Development Program, in partnership with the National Medical Fellowships (NMF) and the American Association for Cancer Research (AACR).
The aim of Dr. Morales' current research project is to develop an app that can be used as a mental health intervention for cancer survivors.
Sonia Morales MD is on staff at CHOC Hospital in Orange .
Location
CHOC Specialists, Oncology
1201 W. La Veta Avenue
Orange, CA 92868
phone: 714-509-4592
fax: 714-509-8699
Education
Medical School
UCLA David Geffen School of Medicine, Los Angeles, CA
Pediatrics Residency
Harbor/UCLA Medical Center, Torrance, CA
Hematology/Oncology Fellowship
CHOC Hospital, Orange, CA