Dr. Pournima Navalkele, Pediatric Oncology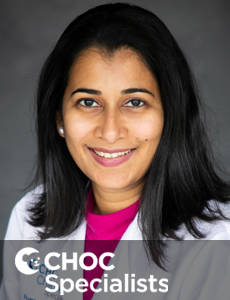 ---
Pournima D. Navalkele MD

Office: 714-509-8636
Specialty: Oncology
Board Certified: Pediatrics; Pediatric Hematology/Oncology
Dr. Pournima Navalkele is a CHOC Specialist in Pediatric Neuro-oncology at the Hyundai Cancer Institute. She is board certified in pediatrics and pediatric hematology/oncology.
Dr. Navalkele's clinical work focuses on treating patients diagnosed with new and relapsed brain and spine tumor. She designs personalized therapy for each patient based on tumor's genetic information and uses multi-disciplinary approach to strive for the best outcomes. She is also involved in multi-disciplinary management of familial brain and spine tumors such as in Neurofibromatosis and Tuberous Sclerosis Complex. She participates in caring for patients in long -term survivorship clinic.
Dr. Navalkele is actively involved in conducting clinical trials through COG, industry, consortia and focuses on developing investigator-initiated early-phase clinical trials. Her clinical research focus includes epidemiology, novel therapies and outcomes of CNS tumors.
Dr. Navalkele was born and raised in Mumbai (west coast), India and attended Grant Medical College, Sir J.J. Group of Hospitals in Mumbai, India. She obtained a Master of Public Health with focus in Epidemiology from University of Iowa in Iowa City and did a year of Epidemiology training at MD Anderson Cancer Center's Cancer Genetics program, focused on cancer pre-disposition syndromes, notably Li Fraumeni syndrome and hereditary Retinoblastoma in Houston, TX. Her Pediatric residency training was at Blair E. Batson Children's Hospital, University of Mississippi, Jackson, MS., Pediatric Hematology Oncology BMT fellowship training at Children's Hospital Michigan, Wayne State University in Detroit, MI., Pediatric Neuro Oncology fellowship training at Nationwide Children's Hospital, Ohio State University, Columbus, OH.
She worked as the Pediatric Neuro-oncology Program Director at SSM Cardinal Glennon Children's Hospital, Saint Louis University in Saint Louis, MO until she made her move to Orange County in November 2022.
Pournima D. Navalkele MD is on staff at CHOC Hospital in Orange .
Location
CHOC Specialists, Oncology
1201 W. La Veta Avenue
Orange, CA 92868
phone: 714-509-8636
fax: 714-509-4748
Education
Medical School
Grant Medical College, Mumbai, India
Pediatric Residency
Blair E Batson Children's Hospital, Jackson, MS
Pediatric Hematology/Oncology Fellowship
Children's Hospital of Michigan, Detroit, MI
Pediatric Neuro-Oncology Fellowship
Nationwide Children's Hospital, Columbus, OH