Dr. Mariko Sato, Director, Neuro Oncology Program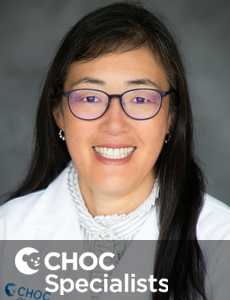 ---
Mariko Sato M.D., PH.D

Office: 714-509-8636
Specialty: Oncology
Board Certified: Pediatrics; Pediatric Hematology/Oncology
Dr. Mariko Sato is a neuro-oncologist, board certified in pediatric hematology and oncology at CHOC Children's Hospital in Orange County, California. Dr. Sato cares for babies, kids and teens with all types of brain and spinal cord tumors and specializes in chemotherapy, targeted therapy and immunotherapy.
Dr. Sato graduated from Tohoku University of Medicine in Miyagi, Japan, where she became a fully trained pediatric cardiologist. When she moved to the United States, she completed her pediatric residency at the University of Hawaii, followed by a pediatric hematology/oncology fellowship at the University of Utah. She then completed her pediatric neuro-oncology fellowship at Baylor College of Medicine. Before joining CHOC, Dr. Sato was an associate professor at the University of Iowa, where she developed their pediatric neuro-oncology program.
Dr. Sato serves as the director of the Brain and Spine Tumors Program at CHOC. She continues to elevate the program through multidisciplinary collaboration across neurosurgery, neurology, ophthalmology, endocrinology, neuropsychology, neuropathology and neuroradiology. Dr. Sato and her team work closely with Children's Oncology Group (COG) as well as industry to develop and conduct clinical trials in an effort to cure every patient with brain and spinal cord tumors.
Dr. Sato's research interest includes developing early phase clinical trials and additional clinical studies to improve patient outcomes. She also conducts research studies to better understand neurocognitive outcomes of patients with brain tumors.
Dr. Sato recognizes that patients may have the same diagnoses but that each patient–and their family–is on a different journey. Because of this, Dr. Sato and her multidisciplinary team build a personalized approach centered on the patient and family to provide the best care.
Mariko Sato M.D., PH.D is on staff at CHOC Hospital in Orange .
Location
CHOC Specialists, Oncology
1201 W. La Veta Avenue
Orange, CA 92868
phone: 714-509-8636
fax: 714-509-8699
Education
Medical School
Tohoku University School of Medicine, Japan
Residency
Kapi'olani Medical Center for Women and Children, Honolulu, HI
Fellowship
University of Utah, Salt Lake City, UT
Additional Provider Training/Education
Texas Children's Hospital, Houston, TX – NeuroOncology