Dr. Elyssa Rubin, Pediatric Oncology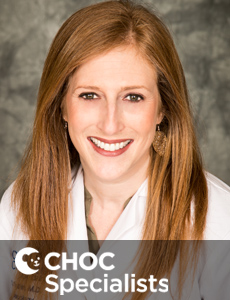 With special interests in sarcomas, neuroblastoma and the histocytic disorders, Dr. Elyssa Rubin serves as the director of the Bone and Soft Tissue Tumor Program at CHOC Hospital and is an oncologist with CHOC Specialists.
Dr. Rubin is board certified in pediatrics and pediatric hematology/oncology. Dr. Rubin completed her medical school training at the Sackler School of Medicine, NY State/American Branch in Tel Aviv, Israel. She completed her pediatric internship and residency training at Kaiser Permanente Los Angeles Medical Center and her fellowship in pediatric hematology/oncology at CHOC Hospital in Orange. As a research fellow, Dr. Rubin's focus was on new therapeutic targets for osteosarcoma.
Clinical Interests
Sarcomas and the histiocytic disorders
Location
Outpatient Clinic, Hyundai Cancer Institute at CHOC
1201 W. La Veta Avenue
Orange, CA 92868
phone: 714-509-8636
fax: 714-509-8699
Education
Medical School
Sackler School of Medicine, NY State/American Branch, Tel Aviv, Israel
Pediatric Internship and Residency
Kaiser Permanente Los Angeles Medical Center, Los Angeles, CA
Fellowship
Pediatric Hematology and Oncology at CHOC Hospital, Orange, CA
Academic Appointments
Assistant Professor of Pediatrics
University of California, Irvine, School of Medicine
Administrative Appointments
Director, Bone and Soft Tissue Tumor Program, CHOC Hyundai Cancer Institute
Oncology, CHOC Specialists
Professional Organizations
American Association for Cancer Research (AACR)
American Society for Blood and Marrow Transplantation (ASBMT)
American Society of Clinical Oncology (ASCO)
American Society of Pediatric Hematology and Oncology (ASPHO)
Children's Oncology Group (COG)
Connective Tissue Oncology Society (CTOS)
Histiocyte Association of America (HAA)
Publications
Buchbinder, D., Hsieh, L., Puthenveetil G., Soni A., Stites J., Huynh V., Kirov I., Neudorf S., Rubin E., Sender L., Torno L., Margolis D., Childs R., Moore T., Nugent D. Successful Autologous cord blood transplantation in a child with acquired severe aplastic anemia. Pediatr Transplant, 2013 May;17(3):E104-7. Doi: 10.1111/petr.12068. Epub 2013 Mar 7.
McQueen P, Ghaffar S, Guo Y, Rubin EM, Zi X, Hoang BH. The Wnt signaling pathway: implications for therapy in osteosarcoma. Expert Review of Anticancer Therapy. 11(8):1223-32 (2011). PMID 21916576
Rubin EM, Guo Y, Tu K, Xie J, Zi X, Hoang BH. Wnt inhibitory factor 1decreases tumorigenesis and metastasis in osteosarcoma, Mol Cancer Ther. 2010 Mar:9(3):731-41. Epub 2010 Mar 2. PMID: 20197388
Elyssa Rubin MD

Appointments:
714-509-8636
Specialty: Oncology
Board Certified: Pediatrics, Hematology, Pediatric Hematology/Oncology
On Staff at: CHOC Hospital in Orange