Dr. Carol Lin, Pediatric Oncology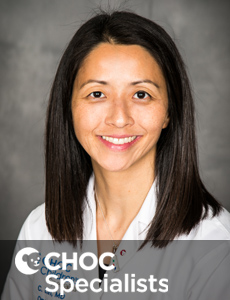 ---
Carol Lin MD

Appointments:
714-509-4348
Specialty: Oncology
Board Certified: Pediatrics, Hematology/Oncology
Additional Languages: Korean, Spanish
Dr. Carol Lin is a CHOC Specialist in pediatric oncology at the Hyundai Cancer Institute.  She is board certified in pediatrics and pediatric hematology/oncology.  Her clinical interests include Acute Lymphoblastic Leukemia (ALL), Relapsed/Refractory leukemia, Hodgkin's and Non-Hodgkin's Lymphomas, After Cancer Treatment Survivorship (ACTS), and Neurofibromatosis (Plexiform neurofibromatosis/Optic Pathway Glioma).
Prior to joining CHOC, Dr. Lin attended medical school at SUNY Upstate Medical University.  She completed both her pediatric residency and pediatric hematology/oncology fellowship at CHOC Hospital.  She is an integral part of multiple oncology teams, including Leukemia/Lymphoma, After Cancer Treatment Survivorship, and Neurofibromatosis Program.
Dr. Lin's research focus includes Acute Lymphoblastic Leukemia, cancer survivorship and the long term effects of disease and treatments.
Clinical Interests
Childhood Acute Lymphoblastic Leukemia (ALL), Relapsed/Refractory Leukemia, Hodgkin's and Non-Hodgkin's Lymphoma, Cancer survivorship, and Neurofibromatosis
Carol Lin MD is on staff at CHOC Hospital in Orange .
Location
Outpatient Clinic, Hyundai Cancer Institute at CHOC
1201 W. La Veta Ave.
Orange, CA 92868
Phone: 714-509-8636
Fax: 714-509-8699
Education
Medical School
SUNY Upstate Medical University, Syracuse, NY
Pediatric Internship and Residency
CHOC Hospital, Orange, CA
Pediatrics Hematology-Oncology Fellowship
CHOC Hospital, Orange, CA
Administrative Appointments
Oncology, CHOC Specialists
Academic Appointments
Assistant Professor of Pediatrics
University of California, Irvine, School of Medicine
Professional Organizations
American Society of Pediatric Hematology and Oncology (ASPHO)
Children's Oncology Group (COG)
Children's Tumor Foundation – Neurofibromatosis
Publications
Carol H. Lin, Lilibeth Torno, Jenine Areeckal, Mary English, et al.  Educating and Preparing the Childhood Cancer Survivor for Long-Term Care: A Curriculum Model for Cancer Centers. In: Grace Mucci, Lilibeth Torno, Eds. Handbook of Long Term Care of the Childhood Cancer Survivor, Springer,2015, pp.487-505.
Carol H. Lin, Tao Ji, Cheng-Fong Chen, and Bang H. Hoang (2014).  Wnt signaling in osteosarcoma. In Eugenie S. Kleinerman (Ed.) Current advances in osteosarcoma, Advances in experimental medicine and biology 804 (pp. 33-45). Springer International Publishing Switzerland.
Carol H. Lin, Yi Guo, Samia Ghaffar, et al.  Dkk-3, a secreted Wnt antagonist, suppresses tumorigenic potential and pulmonary metastasis in osteosarcoma.  Sarcoma, vol. 2013, Article ID 147541, doi: 10.1155/2013/147541.
Tao Ji, Carol H. Lin, Lauren S. Krill, et al.  Flavokawain B, a kava chalcone, inhibits growth of human osteosarcoma cells through G2/M cell cycle arrest and apoptosis.   Molecular Cancer 2013, Vol 12(55).
Maheen Hassan, Carol H. Lin, and Lilibeth Torno.  Risk factors for obesity and time frame of weight gain in non-irradiated survivors of pediatric acute lymphoblastic leukemia.  Journal of Cancer Therapy 2013, Vol 4(1):124-132.