Dr. Joffre E. Olaya, Neurosurgery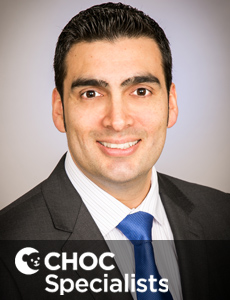 Dr. Olaya performs the full range of pediatric neurosurgical procedures, including the treatment of brain/spine tumors, cerebrovascular lesions, chiari malformations, neural tube defects, craniosynostosis and hydrocephalus, as well as intractable epilepsy.
As a contributing neurosurgeon, Dr. Olaya enhances the CHOC Comprehensive Epilepsy Program, the first children's hospital program in California to receive the prestigious Level 4 distinction from the National Association of Epilepsy Centers. Dr. Olaya is further developing the CHOC epilepsy surgery program, working closely with the other pediatric subspecialty services, and continuing to foster a multidisciplinary approach for optimal patient care. He is interested in the leading-edge technology that is making pediatric neurosurgical procedures safer and less invasive.  Dr. Olaya's research on deep-brain stimulation for treating childhood dystonic cerebral palsy has been published in the Journal of Neurosurgery.
Dr. Olaya is a graduate of the University of California at Davis School of Medicine. He completed his neurological surgery residency at Loma Linda University Medical Center. As a resident, he performed an elective rotation in pediatric neurosurgery at Children's Hospital Los Angeles and then completed a postgraduate pediatric neurosurgery fellowship at Children's Hospital Los Angeles.   Dr. Olaya served his fellowship in epilepsy surgery through the University of Washington at Seattle Children's Hospital.  Dr. Olaya is an assistant clinical professor in the Department of Neurosurgery at UC Irvine School of Medicine.
Clinical Interests
Brain/spine tumors, cerebrovascular lesions, chiari malformations, neural tube defects, craniosynostosis , hydrocephalus, intractable epilepsy
Locations
CHOC Specialists – Neurosurgery
505 S. Main St., Suite 300
Orange, CA 92868
phone: 714-509-7070
fax: 714-509-7074
Education
Medical School
UC Davis School of Medicine, Sacramento, CA
Neurosurgery Residency
Loma Linda University Medical Center, Loma Linda, CA
Pediatric Neurosurgery Fellowship
Children's Hospital of Los Angeles, CA
Epilepsy Surgery Fellowship
University of Washington Medical Center, Seattle, WA
Lectures and Presentations
Effect of Deep Brain Stimulation on Dystonic Cerebral Palsy in Children
Professional Organizations
American Epilepsy Society
Publications
Olaya, J.E., Christian, E., Ferman, D., Luc, Q., Krieger, M.D., Sanger, T.D., Liker, M.A. Deep brain stimulation in children and young adults with secondary dystonia: The Children's Hospital Los Angeles experience. Neurosurgery Focus 2013 Nov; 35(5):E7
Olaya, J.E., Keen, J.R., Hsu, F.P.K., Clinical Implications of Neuroimaging in Stroke. Translational Stroke Research 2012 Mar; 3(2):178-181
Olaya, J.E., Ghostine, M., Rowe, M., Zouros, A. Endoscopic fenestration of cerebellopontine angle arachnoid cyst resulting in complete recovery of sensorineural hearing loss and facial nerve palsy. Journal of Neurosurgery: Pediatrics 2011 Feb; 7(2):157-160
Olaya, J.E., Raghavan, R., Totaro, L., Zouros, A. Pineal anlage tumor in 5-month-old boy. Case report. Journal of Neurosurgery: Pediatrics 2010 Jun; 5:636-640
Our neurosurgeons commonly treat:
Brain tumors
Misshapen heads
Spina bifida
Congenital brain anomalies
Brain and spine anomalies
Infants with abnormal head size
Joffre E Olaya MD

Appointments:
714-509-7070
Specialty: Neurosurgery
Additional Languages: Spanish
On Staff at: CHOC Hospital in Orange and CHOC at Mission Hospital