Dr. Jose E. Abdenur, Medical Director, Metabolic Disorders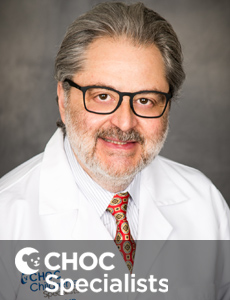 ---
Jose E Abdenur MD

Appointments:
888-770-2462
Office: 714-509-8852
Specialty: Metabolic Disorders
Board Certified: Clinical and Biochemical Genetics
Dr. Abdenur is the chief of the division of metabolic disorders at CHOC and Director of CHOC's metabolic laboratory, one of only a few such laboratories in the United States. He is board certified in clinical biochemical genetics and is a member of the guidelines committee for the Newborn Screening Program, Genetic Diseases Screening Program for the California Department of Health.
Dr. Abdenur completed fellowship training in pediatric endocrinology, metabolism and nutrition at North Shore University Hospital, Cornell University Medical College. He also completed fellowship training in Biochemical Genetics, at the Denver Children's Hospital and The Biochemical Genetics Laboratory at the University of Colorado Health Sciences Center, and in Clinical Genetics at Mount Sinai School of Medicine in New York. Dr. Abdenur completed his pediatric residency training at Hospital General de Ninos Dr. Pedro de Elizalde in Buenos Aires and received his medical training at the Universidad de Buenos Aires, Argentina.
Clinical Interests
The diagnosis and management of children with fatty acid oxidation defects and organic acidemias
Research Focus
Dietary treatments for newborns with fatty acid oxidation defects
Jose E Abdenur MD is on staff at CHOC Hospital in Orange .
Locations
CHOC Clinic
1201 W. La Veta Ave. Building: CHOC Clinic
Orange, CA 92868
phone: 888-770-2462
fax: 855-246-2329
CHOC Health Center in Corona
854 Magnolia Ave. 101
Corona, CA 92879
CHOC Specialists
1201 W La Veta
Orange, CA 92868
phone: 714-509-8852
fax: 714-509-8362
Education
Fellowship – Biochemical Genetics
The Mount Sinai Hospital, Department of Pediatrics and Genetics, Mount Sinai School of Medicine, New York, NY, USA. The Children's Hospital and Biochemical Genetics Laboratory, Department of Pediatrics, University of Colorado Health Sciences Center, Denver, Colorado, USA
Fellowship – Human Genetics
The Mount Sinai Hospital Department of Pediatrics and Genetics, Mount Sinai School of Medicine, New York, NY, USA.
Fellowship – Pediatric Endocrinology, Metabolism and Nutrition
North Shore University Hospital, Department of Pediatrics, Cornell University Medical College, Manhasset, New York, USA
Research Fellow in Pediatric Endocrinology
Hospital General de Ninos Dr. Pedro de Elizalde Unidad de Endocrinología Pediatrica Buenos Aires, Capital Federal. R.Argentina
Academic Appointments
Associate Clinical Professor of Pediatrics
University of California, Irvine
Director, Medical and Clinical Biochemical Genetics Training
Cedars Sinai " UCLA Intercampus Medical Genetics training program
Administrative Appointments
Chair, Metabolic Diseases
CHOC
Director, Metabolic Laboratory
CHOC
Director, Metabolic Services
CHOC
Medical Director, Metabolic Disorders
CHOC Specialists
Director, Metabolic Fellowship
CHOC Specialists
Honors and Awards
"Agent of Change"
Children and Families Commission of Orange County
Lectures and Presentations
Acylcarnitines: Clinical Interpretation of the results
Congenital Muscle dystrophies due to glycosylation defects
Fatty acid Oxidation defects, diagnosis and treatment
Fatty acid oxidation defects
Gamma Polymerase deficiency presenting as Alper's syndrome
Hematological Manifestations of Inborn Metabolic Diseases
Mitochondrial Diseases
Newborn Screenig for Inborn Metabolic diseases in CA
Newborn Screening by Tandem Mass Spectrometry
Newborn Screening for Inborn Metabolic Diseases
Newborn Screening for Metabolic Diseases-Exploring under the tip of the iceberg
Organic Acid Analysis by GC-MS
Organic Acidemias Diagnosis and management
Organic Acidemias: Diagnosis and management
Organic Acidemias: diagnosis and treatment
Organic Acidemias
Plasma Aminoacids
Signs and symptoms approach to Inborn Errors of Metabolism
The ABC of Urine Organic Acids
When to think Metabolic: Clinical and Laboratory manifestations
When to think Metabolic: Clinical manifestations