Dr. Manuel Porto, Maternal-Fetal Medicine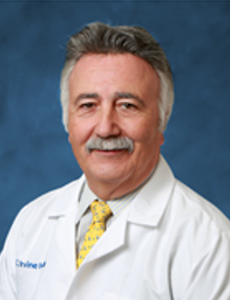 ---
Manuel Porto MD

Appointments:
714-456-2911
Specialty: Maternal-Fetal Medicine
Board Certified: Obstetrics & Gynecology; Maternal Fetal Medicine
Dr. Porto is board certified in obstetrics & gynecology who treats pregnant women and fetuses in Orange County.
Manuel Porto MD is on staff at CHOC Hospital in Orange .
Location
UCI Medical Center
200 S. Manchester Ave., Suite 600
Orange, CA 92868
phone: 714-456-2911
fax: 877-853-4613
Education
Medical School
Rutgers Robert Wood Johnson Medical School, New Brunswick, NJ
Residency
Harbor UCLA Medical Center, Torrance, CA
Fellowship
Long Beach Memorial Medical Center, Long Beach, CA
Research Interests
His research interests include fetal diagnosis and therapy, antepartum fetal testing, recurrent pregnancy loss, multifetal pregnancies and preterm birth prevention.
Publications
1. Combs A, Garite T, Maurel K, Das A, Porto M. Failure of 17-Hydroxyprogesterone to Reduce Neonatal Morbidity or Prolong Triplet Pregnancy. A Double-Blind, Randomized Clinical Trial. Am J Obstet Gynecol, 2010;203(3):248.e1-9.
2. Fitzmaurice L.E., Ehsanipoor R.M., Porto M. Rudimentary Horn Pregnancy with Herniation Into the Main Uterine Cavity. Am J Obstet Gynecol 2010;202(3).e5-e6.
3. Combs CA, Garite T, Maurel K, Das A, Porto M, 17-Hydroxyprogesterone Caproate for Twin Pregnancy: a Double-Blind, Randomized Clinical Trial. Mar 2011. Am J Obstet Gynecol 2011 Mar;204(3):221.e1-8.
4. Salcedo J, Friedrich E, Wing DA, Porto M, Acute fetal anemia diagnosed by middle cerebral artery Doppler velocimetry in stage v twin-twin transfusion syndrome. AJP Rep. 2011 Dec;1(2):95 8.
5. Chung JH, Farinelli CK, Porto M, Major CA. Fetal epignathus: the case of an early EXIT (ex utero intrapartum treatment). Obstet Gynecol. 2012 Feb;119(2 Pt2):466-70.
6. Swank ML, Harken TR, Porto M. Management of interstitial ectopic pregnancies with a combined intra-amniotic and systemic approach. Obstetrics and Gynecology. 2013 Aug; 122:1-4.
7. Galyean A, Garite TJ, Maurel K, Abril D, Adair CD, Browne P, Combs CA, How H, Iriye BK, Kominiarek M, Lu G, Luthy D, Miller H, Nageotte M, Ozcan T, Porto M, Ramirez M, Sawai S, Sorokin Y, Obstetrix Perinatal Collaborative Research Network. Removal versus retention of cerclage in preterm premature rupture of membranes: a randomized controlled trial. AJOG. 2014 Apr.
8. Overcash Rachael T, DeUgarte DA, Stephenson ML, Gutkin RM, Norton ME, Parmar S, Porto M. Contemporary Gastroschisis Outcomes in a Large Multicenter Cohort: a study from the University of California Fetal Consortium (UCFC). Obstetrics and Bynecology. 2014, Sep. 124(3):551-7
9. Abdel-Sattar M, Platt LD, DeVore G, Porto M, Benirschke K, Chmait RH. Treatment of Complicated Spontaneous Twin Anemia-Polycythemia Sequence via Fetoscopic Laser Ablation of the Vascular Communications. Fetal Diagnosis and Therapy. 2015 Aug. 38(3): 233-7
10. Oakes MC, Porto M, Chung JH. Advances in prenatal diagnosis and management of gastroschisis. Sem Ped Surg 2018;27(5):289-299. PMID: 30413259