Dr. Sameer S. Pathare, Medical Director, Pediatric Hospitalist, CHOC Specialists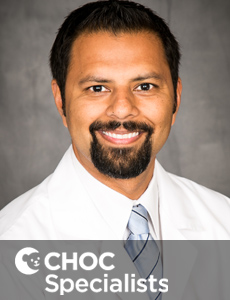 ---
Sameer S Pathare MD

Office: 714-509-8826
Specialties: Hospitalist – Pediatrics, Pediatrics
Board Certified: Pediatrics
Dr. Pathare is a hospitalist at CHOC Children's Hospital in Orange, California. He is board certified in general pediatrics and pediatric hospital medicine.
Dr. Pathare attended medical school at the Medical College of Wisconsin. He completed his internship, residency and chief residency at CHOC. Dr. Pathare has a particular interest in infectious disease and has published in Pediatric Hospital Medicine textbooks, Hospital Pediatrics, and Pediatrics in Review journals. His philosophy of care is to provide a wide scope of pediatric hospitalist care for the hospitalized children at CHOC
Dr. Pathare cherishes the opportunity to teach the next generation of medical students and residents as an associate clinical professor of pediatrics at Dartmouth Medical School and UC Irvine. Dr. Pathare has received multiple awards, including the CHOC Teacher of the Year award in 2006, 2007, 2008 and 2013; the UCI Outstanding Faculty teaching award in 2013 and 2016; and the UCI School of Medicine Medical Student teaching award in 2015 and 2018. He has been an Orange County Physician of Excellence since 2009.
Sameer S Pathare MD is on staff at CHOC Hospital in Orange and CHOC Mission Hospital.
Locations
CHOC Hospital
1201 W La Veta
Orange, CA 92868
phone: 714-509-8826
fax: 714-509-4169
Education
Medical School
Medical College of Wisconsin, Milwaukee, WI
Pediatrics Residency
CHOC Hospital, Orange, CA
Pediatric Chief Residency
CHOC Hospital, Orange, CA
Administrative Appointments
Pediatric Subspecialty Faculty (PSF)
Board of Directors & Vice President of Medicine
Medical Director, Hospitalist
CHOC Specialists
Hospitalist Division Chief
PSF
Honors and Awards
Patient and Family Centered Care Achievement Award
Multiple years
Physician of Excellence
OCMA, Multiple years
Lectures and Presentations
Adenovirus vs. Kawasaki Disease
Congestive Heart Failure
Chorea and Anti-phospholipid Ab syndrome
Dehydration
Dextrocardia, Situs inversus, Asplenia
Dermatomyositis
Foreign Body Obstruction
Fanconi's Syndrome
Intussusception
Meckel's Diverticulum
Mid-Aortic Syndrome
Bacteremia and pyomyositis
Necrotizing Fasciitis
Necrotizing Pneumonia
Neonate with Congestive Heart Failure
Nephrotic syndrome and pericardial effusion
Omphalitis
Orbital Abscess
Osteomyelitis
Peritonsillar Abscess and EBV
Pyelonephritis
Presentation of Acute leukemia
Rattlesnake envenomation
Rectal bleeding
RSV with VSD and malrotation
Severe Pediatric Infections
The Acute Febrile Infant
Toxic Shock Syndrome
Typhus
Systemic Lupus
Moyamoya
GBS Meningitis
Septic Joint
Pott's puffy tumor
Salmonella
Uterine didelphys
Coccidioides meningitis
Hypertension
Hirschsprung's
Long QT syndrome
Hodgkin's Lymphoma
Ruptured Appy
Schwachman-Diamond
Ganglioneuroma
Professional Organizations
American Academy of Pediatrics
Orange County Medical Association