Dr. Georgie J. Pechulis, Pediatric Hospitalist - Pediatrics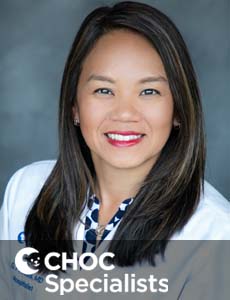 ---
Georgie J Pechulis MD

Office: 714-509-8826
Specialty: Hospitalist – Pediatrics
Board Certified: Pediatrics, IBCLC
Additional Languages: Spanish
Georgie Joven Pechulis, M.D. FAAP, IBCLC is a Hospitalist with CHOC Specialists. Dr. Pechulis received her medical degree from the University of Illinois, Chicago. She completed her residency in pediatrics at CHOC Hospital, Orange, California, and served as one of the chief residents when the CHOC-UCI Residency Program initially merged. She is licensed by the Medical Board of California and is board certified in pediatrics by the American Board of Pediatrics. She maintains an active role in residency program by being an active mentor to residents, conducting case-based morning reports and training new doctors during hospital rounds. She also holds her International Board of Certification in Lactation Consulting and enjoys counseling mothers on breastfeeding.
Dr. Pechulis enjoys many outdoor activities in the California sun, including running, biking, swimming, hiking, and snowboarding. She has spent several years traveling and teaching in various parts of the world and speaks fluent Spanish. She is an avid yogi who believes that yoga practice is the key to her balanced life. Most of all, she enjoys spending time with her husband, three children and dog in their Huntington Beach home. She truly enjoys her work and feels blessed to take care of patients and their families at such a great hospital as CHOC.
Georgie J Pechulis MD is on staff at CHOC Hospital in Orange and CHOC Mission Hospital.
Locations
CHOC Specialists
1201 W. La Veta
Orange, CA 92868
phone: 714-509-8826
fax: 714-509-4169
Education
Medical School
University of Illinois at Chicago
Residency
CHOC Hospital, Orange, CA
Administrative Appointments
Hospitalist, CHOC Specialists
Memberships and Committees
Med/Surg Morbidity and Mortality, Chair
CHOC Health Alliance Utilization Management and Quality Improvement Committee CHOC Mission Critical Care Committee
CHOC Best Place to Practice Committee
Presentations and Publications
Resident case-based morning reports on topic such as: perforated appendix, Grisel syndrome, methemoglobinemia, post strep glomerulornephritis, drug ingestion ataxia, vocal cord paralysis and stridor, short stature, hypertension, Kawasaki Disease, choledochal cyst/hyperbilirubinemia; Anaphylaxis and Epinephrine Use Defining the Line between Discipline and Abuse
Helicopter Parenting
Neuroblastoma
Diarrhea and Dehydration
Toxicology in the News
Ophthalmological Findings in Shaken Baby Syndrome
Meconium Aspiration
STDs in Adolescent Females
BRUE: updates on former ALTE (CHOC Mission Department of Medicine Conference)   "The Dangers of Secondary Drowning" (CHOC Blog, May 2016)
"A Pediatrician Explains AAP's New Safe Sleep For Babies Practices" (CHOC Blog, Nov 2016)