Dr. Diane J. Nugent, Medical Director, Pediatric Hematology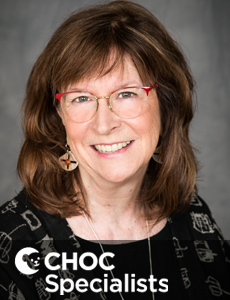 A nationally-recognized expert in pediatric hematology, Dr. Nugent's clinical and research interests include blood disorders, bone marrow failure, bleeding and clotting disorders, and white cell and immune deficiencies. She is involved in a number of clinical trials for rare blood disorders, including a study that looks at the use of Fibrogammin P, a human plasma derived Factor XIII concentrate, in patients with congenital Factor XIII deficiency. Dr. Nugent is also principal investigator for the Region IX MCHB Hemophilia Treatment Program and its associated research.
A prolific author on innovative medicine, Dr. Nugent has coauthored more than 100 journal articles and book chapters and has been featured in journals including Haemophilia, Blood, New England Journal of Medicine, Thrombosis Research and more. She specializes in all aspects of hematology, bone marrow failure, anemias, immune disorders, bleeding and clotting disorders. Specialized procedures include bone marrow biopsy, aspiration and lumbar puncture.
Dedicated to clinical excellence, Dr. Nugent is board certified in both pediatrics and pediatric hematology-oncology. Prior to joining CHOC, Dr. Nugent attended medical school at the University of California, Los Angeles. Her residency and internship training were completed at Denver Affiliated Hospitals in Colorado. Dr. Nugent received her fellowship training at Children's Hospital Medical Center in Seattle and Fred Hutchinson Cancer Research Center.
A respected physician leader, Dr. Nugent was recognized as Physician of the Year in Orange County and serves as chair of review subcommittees at NHLB1/NIH and HRSA Region IX program projects in the area of hematology. Dr. Nugent speaks fluent Spanish.
Research Focus
Blood disorders, bone marrow failure, bleeding and clotting disorders, and white cell and immune deficiencies
Locations
CHOC Clinic
1201 W. La Veta Ave. Building: CHOC Clinic
Orange, CA 92868
phone: 888-770-2462
fax: 855-246-2329
CHOC Health Center – Mission Viejo
27700 Medical Center Rd Building #2 Suite 138
Mission Viejo, CA 92691
CHOC Specialty Center – Newport Beach
500 Superior Ave. 140
Newport Beach, CA 92663
St. Joseph Hospital
1100 W Stewart Dr
Orange, CA 92868
Education
Pediatric Residency
Denver Affiliated Hospitals, Denver, Colorado
Pediatric Hematology-Oncology Research Fellowship
Fred Hutchinson Cancer Research Center and the Children's Hosptital and Medical Center, Seattle, Washington
Academic Appointments
Clinical Professor, Department of Pediatrics
UC Irvine School of Medicine, Irvine, California
Principal Investigator, Region IX MCHB Hemophilia Treatment Program
CDC Cooperative Agreement in Prevention of Complications of Hemophilia
Professor and Chief of Hematology Division, Department of Pediatrics
University of California, Irvine, California
Administrative Appointments
Chair, Hematology
CHOC
Medical Director
Hematology and Blood and Donor Services, CHOC
Medical Director, Hematology
CHOC Specialists
Honors and Awards
Orange County Medical Association's Physicians of Excellence 2011-2012
Recognized as 2005 Physician of the Year in Orange County
Publications
Nugent DJ, Bray GL, Counts RB, Clements MJ and Thompson AR. Danazol fails to increase factor VIII or IX levels in a double-blind crossover study of patients with haemophilia A and B . Br J Haematol 1986; 64:493-502.
Kunicki TJ, Nugent DJ, Piotrowicz RS and Lai C-S. Covalent attachment of sulfydryl-specific, electron spin resonance spin-labels to Fab' fragments of murine monoclonal antibodies that recognize human platelet membrane glycoproteins. Development of membrane protein specific spin probes. Biochemistry 1986; 25:4979-4983.
Nugent DJ, Kunicki TJ, Berglund C and Bernstein I. A human monoclonal autoantibody recognizes a neoantigen on glycoprotein IIIA expressed on stored and activated platelets. Blood 1987; 70(1):16-22.
Bray G and Nugent DJ. Hemorrhage involving the upper airway in hemophilia . Clin Pediatr 1986; 25(9):436-439.
Kunicki TJ, Furihata K, Bull B, and Nugent DJ. The immunogenicity of platelet membrane glycoproteins. Transfus Med. Rev 1986; (1):21-33.
Shulman H, Gown AM and Nugent DJ. Hepatic veno-occlusive disease after bone marrow transplantation: Immunohistochemical identification of the material within occluded central venules. Am J Pathol 1987; 127(3):549-558.
Furihata K, Nugent DJ, Bissonette A, Aster RH and Kunicki TJ. On the association of the platelet-specific alloantigen, Pena, with glycoprotein IIIa. Evidence for heterogeneity of glycoprotein IIIa. J Clin Invest 1987; 80(6):1624-1630.
Canfield V, Ozols J, Nugent DJ and Roth G. Isolation and characterization of the and chains of human platelet glycoprotein Ib". Biochem Biophys Res Comm 1987; 147(2):526-534
Brashem-Stein C, Nugent DJ and Bernstein ID. Characterization of an antigen expressed on activated human T cells and platelets. J Immunol 1988; 140(7):2330-2333.
Odell JM, Haas JE, Tapper D and Nugent DJ. Infantile hemorrhagic angiodyplagia . Pediatr Pathol 1987; 7:(5-6)629-636.
Piotrowicz RS, Orchekowski RP, Nugent DJ, Yamada KM and Kunicki TJ Glycoprotein Ic- IIa functions as an activation-independent fibronectin receptor on human platelets . J Cell Biol 1988; 106(4):1359-1364.
Roth GJ, Ozols J, Nugent DJ and Williams SA. Isolation and characterization of human platelet glycoprotein IX. Biochem Biophys Res Commun 1988; 156(2):931-939.
Kunicki TJ, Nugent DJ, Staats SJ, Orchekowski RP, Wayner EA and Carter WG. The human fibroblast class II extracellular matrix receptor mediates platelet adhesion to collagen and is identical to the platelet glycoprotein Ia-IIa complex. J Biol Chem 1988; 263(10):4516-4519.
Kunicki TJ, Furihata K and Nugent DJ. Glycoprotein IIb-IIIa as an immunologic target. Current Studies in Hematology Blood Transfusion 1988; (54):44-63.
Nugent DJ. Human monoclonal autoantibodies to characterize platelet antigens in immune- mediated thrombocytopenia. BLUT 1989; 59(1):52-58.
Nugent DJ. Characterization of human antiplatelet autoantibodies using rabbit polyclonal and murine monoclonal anti-idiotypic antibodies. Clin Immunol and Immunopath 1990; 53:52-58.
Hiraiwa A, Nugent DJ and Milner EC. Sequence analysis of monoclonal antibodies derived from a patient with idiopathic thrombocytopenic purpura. Autoimmunity 1990; 8(2):107-113.
Kunicki TJ, Furihata K, Kekomaki R, Scott JP, and Nugent DJ. A human monoclonal autoantibody specific for human platelet glycoprotein IIb (integrinII) heavy chain. Human Anti bodies and Hybridomas 1990;1(2):83-95.
Bearman SI, Hinds MS, Wolford JL, Petersen FB, Nugent DJ, Slichter SJ, Shulman HM, and McDonald GB. A pilot study of continuous infusion heparin for the prevention of hepatic veno-occlusive disease after bone marrow transplantation. Bone Marrow Transplant 1990; 5:(6)407-411.
Kunicki TJ, Annis D, Gorski J, and Nugent DJ. Nucleotide Sequence of the Human Autoantibody 2E7 Specific for the Platelet Integrin II Heavy Chain. J Autoimmunity 1991; 4:433-446.
Nugent DJ. IVIG in the treatment of children with acute and chronic idiopathic thrombocytopenic purpura and the autoimmune cytopenias. Clinical Reviews in Allergy 1992; 10:1-14.
Nugent DJ. IVIG in the treatment of children with acute and chronic idiopathic Thrombocytopenic purpura and the autoimmune cytopenias. IVIG Therapy Today 1992; 59-71.
Kunicki TJ, Plow EF, Kekomake R and Nugent DJ. Human monoclonal autoantibody 2E7 is specific for a peptide sequence of platelet glycoprotein IIb. Localization of the epitope to IIb 231- 238 with an immuno dominant Trp235. J Autoimmunity 1991; 4(3):415-431.
Devine DV, Andestad G, Nugent DJ and Carter CJ. Platelet-associated factor XIII as a marker of platelet activation in patients with peripheral vascular disease. Arteriosclerosis & Thrombosis 1993; 13(6):857-862.
Langkamp D, Brazy J, Neary P, and Nugent DJ. Combined Rh hemolytic disease and granulocyte alloimmunization causing prolonged agranulocytosis in a newborn infant. J Perinatology 1993; 13(6):478-480.
Tarantino MD, Kunicki TJ, Nugent DJ. The estrogen receptor is present in human megakaryocytes. Ann N.Y. Acad Sci 1994; 714:293-296.
Nugent DJ Alloimmunization to platelet antigens Semin Hematol 1992; 29 (3 Suppl 2): 83-88.27.
Gruel Y, Brojer E, Nugent DJ, and Kunicki TJ. Further characterization of the thromblasthenia- related idiotype OG. Antiidiotype defines a novel epitope(s) shared by fibrinogen B chain, vitronectin, and Von Willebrand factor and required for binding to 3. Journal of Experimental Medicine 1994; 180(6):2259-2267.
Tarantino MD, Nugent DJ Severe electrical burns in a hemophiliac wearing a medical alert neck chain. Clin Pediatr (Phila) 1994 33(6): 382-383.
Ishida F., Gruel Y., Brojer E., Nugent DJ, Kunicki TJ Repertoire cloning of a human IgG inhibitor of IIB 3 function. The OG idiotype. Mol. Immunol. 1995;32(9): 613-622.
Gruel Y., Nugent D.J., Kunicki T.J.. Molecular specificity of anti IIb/IIIa human antibodies. Semin. Thromb. Hemost. 1995;21:(1) 60-67.
Imbach, P, Akatsuka J, Blanchette V, Nugent DJ Immune thrombocytopenic purpura as a model for pathogenesis and treatment of autoimmunity. Eur J Pediatr 1995 154:500 564.
Kunicki TJ, Kritzik M, Annis DS, Nugent DJ. Hereditary variation in platelet integrin 21 density is associated with two silent polymorphisms in the 2 gene coding sequence. Blood 1997 89(6):1939-1943.
Kunicki TJ and Nugent, DJ Autoantibodies and Autoantigens in Immune Me
Our hematologists commonly treat:
Anemia, including sickle cell anemia, thalassemia, iron deficiency and lead toxicity
White cell and immune deficiency disorders
Aplastic anemia
Bone marrow failure syndromes
Thrombocytopenia
Platelet disorders
Coagulation abnormalities, hemophilia,  Von Willebrand's disease, rare bleeding disorders such as Factor 13 deficiency
Excessive clotting disorders,  thrombophilia, deep venous clots, pulmonary embolus or stroke
Acquired bleeding and clotting disorders
Prevention of bleeding and clotting problems, with particular experience for patients on cardiopulmonary bypass
Diane J Nugent MD

Appointments:
888-770-2462
Office: 714-509-8459
Specialty: Hematology
Board Certified: Pediatrics, Pediatric Hematology/Oncology
Additional Languages: Spanish
On Staff at: CHOC Children's Hospital and CHOC Children's at Mission Hospital
Videos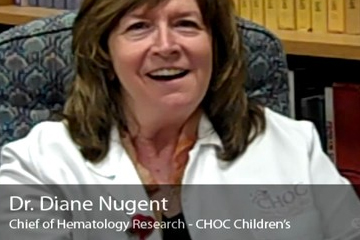 In this video, Chief of Hematology Dr. Diane Nugent talks about why research matters at CHOC and how this research helps children in our community.