Dr. Maryam Gholizadeh, Pediatric General and Thoracic Surgery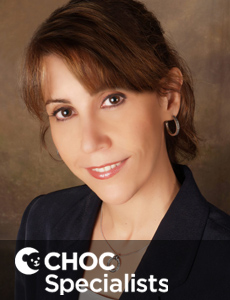 ---
Maryam Gholizadeh MD

Appointments:
714-364-4050
Office: 714-364-4050
Specialty: Pediatric Surgery
Board Certified: General Surgery, Pediatric Surgery
Additional Languages: Farsi
Dr. Maryam Gholizadeh is a pediatric surgeon who is engaged in all aspects of medicine and devoted to the delivery of high-quality care. With a dedication and focus on her patients, Dr. Gholizadeh is a well-respected surgeon in the community. She handles complex cases and frequently receives referrals from pediatricians who appreciate her commitment to good communication and prompt follow-up.  She has special interest in surgical oncology and pediatric hernias, and firmly believes that a thorough explanation of the condition to families and referring physicians is essential. Dr. Gholizadeh is always available for any questions or concerns from her patients or their families, as well as to discuss specific clinical ramifications with other health care providers who are part of the overall care delivery team.
Dr. Gholizadeh earned her undergraduate degree at George Mason University, and attended medical school at George Washington University. Her internship and residency were both completed at Eastern Virginia Medical School. Dr. Gholizadeh completed fellowships in pediatric surgery at Children's National Medical Center and in pediatric surgical oncology at Memorial Sloan Kettering. During this process, she achieved honor society membership, a prestigious research fellowship, recognition as the "Best Chief Resident" and high placement in annual scientific forums.
Dr. Gholizadeh is active in CHOC leadership, serving as chair of several hospital departments/sections as well as on medical staff committees. She has considerable research experience with many presentations at national meetings and has co-authored articles in specialty journals. Dr. Gholizadeh's compassion for her patients; accessibility to families and fellow physicians; leadership experience; and passion for strengthening her community relationships make her an excellent physician and respected colleague.
Clinical Interests
Surgical oncology and pediatric hernias.
Maryam Gholizadeh MD is on staff at CHOC Hospital in Orange and CHOC Mission Hospital.
Locations
CHOC Children's Specialists – Pediatric Surgery
505 S. Main St, Suite 225
Orange, CA 92868
phone: 714-364-4050
fax: 714-364-4051
CHOC Children's Health Center – Mission Viejo
26691 Plaza, Suite 130
Mission Viejo, CA 92691
phone: 714-364-4050
fax: 714-364-4051
Academic Appointments
Clinical Assistant Professor of Surgery
UC Irvine
Administrative Appointments
Chair, Department of Surgery, CHOC Children's
Pediatric Surgery, CHOC Children's Specialists
Committees
Credentialing Committee
CHOC Children's
Medical Staff Executive Committee
CHOC Children's
Medical Staff Performance Committee
CHOC Children's
Education
General Surgery Residency
Eastern Virginia Medical Center
Medical School
George Washington University
Pediatric Surgery Fellowship
Children's National Medical Center
Pediatric Surgical Oncology Fellowship
Memorial Sloan Kettering Cancer Center
Honors and Awards
Physician of Excellence
Orange County Medical Association
Our pediatric general and thoracic surgeons commonly perform the following surgeries: 
Circumcision (not newborn)
Congenital Pulmonary Airway Malformation (CCAM/CPAM)
Gall Stones (Cholecystectomy)
GERD (Fundoplications)
Hydrocele
Intussusception
Lumps & Bumps
Malrotation
Pectus Excavatum (Nuss procedure)
Precocious Puberty (Supprelin Implants)
Undescended Testicle (Orchiopexy)
Videos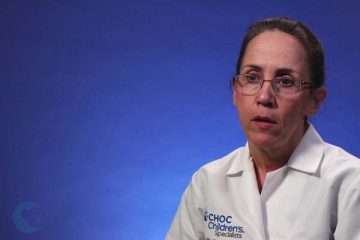 When a Baby Has Omphalocele
Dr. Maryam Gholizadeh, CHOC pediatric surgeon, discusses the causes, diagnosis and treatment for omphalocele.