Dr. Lisa D. Curcio, General Surgery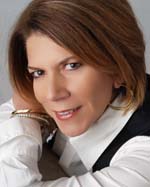 ---
Lisa D Curcio MD

Appointments:
949-770-0797
Specialty: General Surgery
Board Certified: Surgery
Dr. Lisa Curcio offers the latest medical treatments in breast care, she understands the emotional issues of a breast disease or cancer diagnosis. Patients can seek personal consultations, support groups or second opinions through her practice. Dr. Curcio fought her own battle with breast cancer at age 37, so she offers her own unique perspective of experiencing the disease first hand. Her practice is focused on treating the woman as a whole person.
Dr. Curcio graduated summa cum laude from the University of Scranton, Pennsylvania with a B.S. in Biology. She then earned her medical degree from the George Washington University Medical School, Washington, D.C., where she also completed her medical Internship and Residency in General Surgery. She received her advanced training in breast cancer treatment from the City of Hope National Medical Center, Duarte, California, where she completed a fellowship in Surgical Oncology. Prior to joining Advanced Breast Care Specialists, Dr. Lisa Curcio was a general and oncologic surgeon at Mission Hospital and was Chief of Surgical Oncology at Keesler Medical Center. She is a current member of the National Board of Medical Examiners and American Board of Surgery.
As an active member of the breast cancer advocacy community, Dr. Curcio has served as cancer liaison at both Mission Hospital Medical Center and Keesler Medical Center. She was an active member of both hospitals' cancer committee. She has also served as the tumor board chairperson at both facilities. Dr. Curcio belongs to numerous professional societies and has written dozens of articles and research projects on a variety of cancer and breast care issues. Dr. Curcio is a dynamic speaker and she has addressed a variety of professional and community groups over her 25 year career.
Lisa D Curcio MD is on staff at CHOC Mission Hospital.
Locations
Breastlink Laguna Hills
23961 Calle de la Magdalena 130
Laguna Hills, CA 92653
phone: 949-770-0797
Education
Fellowship
Surgical oncology at the City of Hope National Medical Center
Internship
In Surgery at George Washington University Hospital
Medical School
George Washington University Medical School
Residency
In Surgery at George Washington University Hospital