Dr. Laura Goodman, Assistant Professor of Surgery and Pediatrics, UC Irvine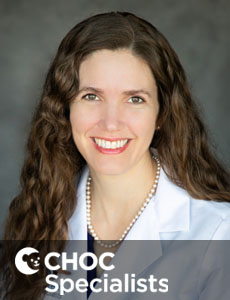 ---
Laura F. Goodman MD

Office: 714-364-4050
Specialties: Pediatric Surgery, Thoracic Surgery
Board Certified: Board Certified: Board certified in Pediatric General and Thoracic Surgery, Board Certified: Board certified in General Surgery
Dr. Goodman is a pediatric general and thoracic surgeon who performs surgery on infants and children at CHOC Hospital in Orange.
She is actively involved in research to improve outcomes in pediatric surgery and pediatric trauma, and is conducting a multi-center study on pediatric thoracic trauma sponsored by the Eastern Association for the Surgery of Trauma.
Dr. Goodman is the CHOC Associate Trauma Medical Director. She serves as a Vice-Chair on the Southern California Committee on Trauma.
Clinical Interests
congenital anomalies, trauma care, minimally invasive and robotic surgery, pectus excavatum
Laura F. Goodman MD is on staff at CHOC Hospital in Orange .
Locations
CHOC Specialists, Pediatric Surgery
Commerce Tower
505 S. Main Street, Suite 225
Orange, CA 92868
phone: 714-364-4050
fax: 714-364-4051
Education
Medical School
University of Pittsburgh School of Medicine, Pittsburgh, PA
Residency
UC Davis Medical Center, Sacramento, CA
Fellowship
Loma Linda University Medical Center, Loma Linda, CA
Master of Public Health
Harvard T.H. Chan School of Public Health
Organization memberships
American Academy of Pediatrics
American Pediatric Surgical Association (APSA)
American College of Surgeons
Association for Academic Surgery
Eastern Association for the Surgery of Trauma
Pediatric Trauma Society