Dr. Patricia P. Liao, Pediatric Critical Care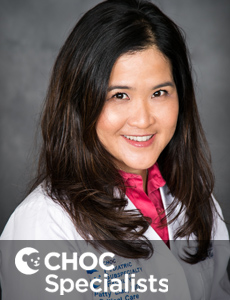 ---
Patricia P Liao MD

Office: 714-509-8620
Specialty: Critical Care
Board Certified: Pediatrics, Pediatric Critical Care
Additional Languages: Spanish, Mandarin, Hakka
Dr. Patricia Liao is board certified in pediatrics and pediatric critical care. Focused on excellence in pediatric critical care, Dr. Liao has special interest in genetic predispositions to critical illnesses and is involved in several clinical trials.
Prior to joining CHOC, Dr. Liao attended medical school at Northwestern University in Chicago, Illinois. She completed her pediatric residency training at CHOC and her critical care fellowship training at Children's Hospital Los Angeles.
Clinical Interests
Congenital heart disease, telemedicine, community outreach
Research Focus
Genetic predispositions to critical illnesses
Patricia P Liao MD is on staff at CHOC Hospital in Orange and CHOC Mission Hospital.
Locations
CHOC Specialists
1201 W La Veta
Orange, CA 92868
CHOC at Mission Hospital
27700 Medical Center Rd
Mission Viejo, CA 92691
Hoag Memorial Presbyterian Hospital
1 Hoag Dr
Newport Beach, CA 92663
Education
Medical School
Northwestern University, Chicago, IL
Residency
CHOC Hospital, Orange, CA
Fellowship
Children's Hospital Los Angeles, CA
Administrative Appointments
Critical Care, CHOC Specialists
Academic Appointments
Assistant Clinical Professor
University of California, Irvine, School of Medicine
Research
Dr. Liao is very focused on her patients and the overall improvement of outcomes in critical care treatments. As part of this focus, she is interested in looking at genetic predispositions to critical illnesses. In support of her clinical and research interests, Dr. Liao is involved in several trials. Currently, Dr. Liao is principal investigator involved in a multicenter study investigating behavior and developmental outcomes in children who have had pertussis through the Collaborative Pediatric Critical Care Research Network and the Eunice Kennedy Shriver National Institute of Child Health and Human Development. Along with the rest of the critical care division, Dr. Liao is working as an investigator on three additional studies. The first is in conjunction with the Centers for Disease Control, in which Dr. Liao is investigating genetic epidemiology of life-threatening influenza infection in children. Another study is a multicenter, randomized, masked placebo-controlled trial to assess the safety and efficacy of lucinactant in acute hypoxemic respiratory failure in children up to two years of age. She is also involved in an investigator-initiated trial started at Cincinnati Children's Hospital Medical Center in which she is studying genomic analysis of pediatric systemic inflammatory response syndrome. Dr. Liao's commitment to critical care research and international health are evident through her publications, abstracts and invited lectures.
Professional Organizations
Society of Critical Care Medicine
North American Taiwanese Medical Association
American Academy of Pediatrics
American Medical Association