Dr. Adam J. Schwarz, Pediatric Critical Care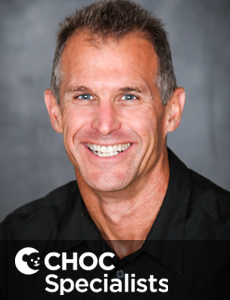 ---
Adam J Schwarz MD

Office: 714-509-8620
Specialty: Critical Care
Board Certified: Pediatrics, Pediatric Critical Care
Additional Languages: Spanish, French, Malay/Indonesian
With a passion for research in pediatric critical care medicine, Dr. Schwarz supervises the clinical research program within the division of pediatric critical care, overseeing many different national multi-center clinical research studies in pediatric critical care, including studies of therapeutic hypothermia after pediatric cardiac arrest (THAPCA), implementation of a sedation protocol for children with respiratory failure on mechanical ventilator support (RESTORE), inflammatory and genetic biomarkers of septic shock, biomarkers of acute lung injury (BALI), pharmacokinetics of sedation medications (PISA), neuro-developmental consequences of critical pertussis, inflammatory responses to critical influenza infection (PICFlu), and a CDC sponsored study investigating the effectiveness of the influenza vaccine on preventing critical illness in pediatrics. Many of these studies are coordinated in association with a national organization of large academic PICUs across the U.S. and Canada called the Pediatric Acute Lung Injury and Sepsis Investigators (PALISI).
A renowned expert in the field of pediatric critical care, Dr. Schwarz has written a book on pediatric intensive care, "Blueprints Pediatric ICU," as well as several national journal articles on pediatric critical care topics including pediatric septic shock and severe acute asthma.
Dr. Schwarz is board certified in pediatrics and pediatric critical care. Prior to joining CHOC, Dr. Schwarz attended medical school at Stanford University School of Medicine in California. He completed his pediatric internship and residency training at Stanford University Hospital and performed his pediatric critical care fellowship at Harbor-UCLA Medical Center, CHOC and King Drew Medical Center.
Research Focus
Pediatric Critical Care Medicine
Adam J Schwarz MD is on staff at CHOC Hospital in Orange and CHOC Mission Hospital.
Locations
CHOC Specialists
1201 W La Veta
Orange, CA 92868
phone: 714-509-8620
fax: 714-509-4072
CHOC at Mission Hospital
27700 Medical Center Rd
Mission Viejo, CA 92691
Hoag Memorial Presbyterian Hospital
1 Hoag Dr
Newport Beach, CA 92663
Education
Medical School
Stanford University School of Medicine
Residency
Stanford University Hospital
Fellowship
Combined Pediatric Critical Care Fellowship at Harbor-UCLA, CHOC Hospital and King Drew Medical Center
Administrative Appointments
Critical Care, CHOC Specialists
Academic Appointments
Assistant Clinical Professor, Pediatrics
UC Irvine School of Medicine
Board Certifications
Pediatrics
American Board of Pediatrics
Emergency Medicine
American Board of Emergency Medicine
Published Works
Schwarz AJ, Lieh-Lai MW. Status Asthmaticus. eMedicine (serial online). 2011. Available at: http://www.emedicine.com/ped/topic2150.htm
Schwarz AJ. Pediatric Shock. eMedicine [serial online]. 2011. Available at: http://www.emedicine.com/ped/topic2990.htm
Schwarz A, et al. Therapeutic Hypothermia after Out-of-Hospital Cardiac Arrest in Children. N Engl J Med. 2015; 372:1898-1908.
Lectures and Presentations
"Therapeutic Hypothermia in Children"
"Influenza and Severe ARDS"