Physical Therapy During Cancer Treatment
CHOC provides physical therapy for children of all ages with cancer. Certain types of cancers can make some of life's every day tasks difficult. Working alongside the experts at the Hyundai Cancer Institute, our therapists are dedicated to providing children with cancer the support they need to continue functioning as normally as possible both during and after treatment.
CHOC physical therapists work with cancer patients both during and after cancer treatment for proper body function that will allow you to participate in daily activities.
Therapists work with patients to:
Increase the child's mobility and to improve their ability to perform self care activities.
Improve range of motion to allow for independent mobility.
Enhance strength and endurance and the patient's ability to perform daily living activities.
Get referrals for serial casting, durable medical equipment and other necessary equipment and devices needed to make life easier for patients.
After cancer treatment
Cancer treatment can cause temporary or permanent changes to how your body works. Our physical therapists can help manage lymphedema, fatigue, pain, peripheral neuropathy and loss of fitness due to lack of exercise.
Want to know more?
Frequently Asked Questions About Physical Therapy for Cancer Patients
The physical therapists at CHOC work with oncology patients of all ages, and many therapy sessions can be done in the Hyundai Cancer Institute's in-unit gym. The questions below are some of the most frequently asked about physical therapy as it relates to cancer diagnoses and treatments. The answers in this document should not replace the specific information provided by the patient's therapists or doctors.
Does my child need physical therapy if they are on active chemotherapy?
By performing physical therapy during treatment, we can ensure that the child maintains their function and range of motion throughout their treatment. As with any treatment, accommodations are made depending on the child's energy level. Each patient's lab work is closely monitored throughout treatment and physical therapy.
My child is already going through so much, why physical therapy now?
When patients undergo physical therapy while in treatment, they are better able to maintain their ankle, hip, knee and shoulder range of motion. Keeping up their range of motion means that when they are cleared for more vigorous activity, they will be strong enough to move and play.
Will my child be able to walk and play normally?
Each child's progress varies and depends upon the child's diagnosis. Our physical therapists work to help the child move and play to the best of their ability. Each child is treated with compassion, innovation and creativity. We try our best to make each experience fun and functional so that the child is entertained as they either maintain or improve their ability to interact with the world.
Please speak with the child's therapists, nurse coordinator or oncologist about any of your specific questions.
Videos: Exercises for Cancer Recovery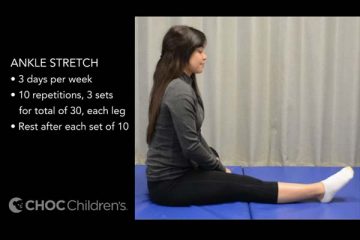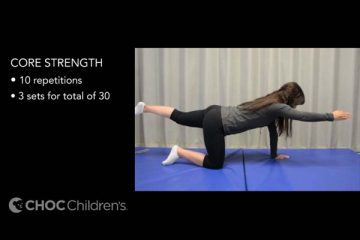 Cancer Home Exercise Program – Adolescents-Teens
In this CHOC video, learn how to perform cancer rehabilitation home exercises to maintain function and range of motion. These exercises are designed for teens and young adults ages 13 and up.