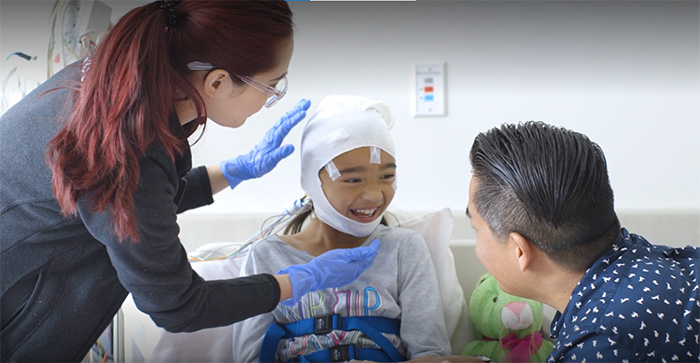 A sleep study, also called a polysomnogram, is a way to monitor someone's muscles, brain and breathing while they sleep. Your child's doctor may request a sleep study to help diagnose a sleep disorder or another condition related to sleep.
Our Sleep Centers are designed for quiet and comfort, with a highly trained team and the very latest in sleep monitoring equipment. The results of your child's study will be scored by a technologist, interpreted by a physician and shared with your child's referring doctor. CHOC specialists such as pulmonologists, neurologists, otolaryngologists (ENT) and psychologists may also be involved in your child's care.
A sleep study is usually done on an outpatient basis. In addition to an overnight sleep study, we may also perform a multiple sleep latency test, which is conducted the following day. Children under the age of 1 may only have a daytime nap study, which lasts on average four hours.
The technologist will always be in the room next to yours. He or she will watch your child's every breath, movement and brainwave using video monitoring and state-of-the-art equipment including:
•    EEG, to monitor brain activity. Our EEG technology is compatible with long-term monitoring equipment, in case a more comprehensive EEG is needed.
•    EKG, to monitor heart activity
•    EOG, to monitor eye movement
•    EMG, to monitor muscle activity
•    Thermistor, to monitor airflow
•    Pulse oximetry, to monitor oxygen levels
•    Lightweight belts with sensors, to monitor respiratory effort
If a technologist identifies an issue with a child, they will immediately provide assistance if needed. If a serious issue occurs, both Sleep Center locations are located within our main hospitals and have access to all other support services, including intensive care and respiratory services.
Video: What to Expect at Your Child's Sleep Study
The CHOC Sleep Center has two locations that are designed for quiet and comfort, with technologists that are friendly, calming and experienced with children. In this video, learn what happens when your child has a sleep study at CHOC. Videos are also available in Spanish.
Sleep Studies at CHOC in Orange.
Preparing for a Sleep Study
Children who are undergoing an overnight sleep study will be at the Sleep Disorder Center for about 10 hours, starting in the evening and ending the following morning. Children who are also having daytime testing will stay for an additional 10 hours.
The CHOC Difference
We have two state-of-the-art Sleep Centers — one across the street from CHOC Hospital in Orange and one at CHOC at Mission Hospital.
Both CHOC Sleep Centers are located within or adjacent to our main hospitals and have convenient access to all other support services, including respiratory services and intensive care.
Our Sleep Center team is board-certified in pediatrics, pediatric pulmonary medicine, neurology and sleep medicine.
Other CHOC specialists such as board-certified otolaryngologists (ENT) and psychologists may also be involved in your child's care.
CHOC registered sleep technologists are specially trained to work with infants, children and adolescents.
We provide outpatient specialty care for kids who have sleep problems but don't require a sleep study, and for kids who require CPAP/BIPAP services.