---
Special rooms of the CHOC Neonatal Intensive Care Unit are designated for the Neurocritical NICU, where we have the expertise and equipment to carefully treat and prevent neurological issues such as seizures, asphyxiation and brain damage. Our pediatric board-certified neurologists are available 24/7 to partner with our neonatologists to make a specialized treatment plan together for our patients.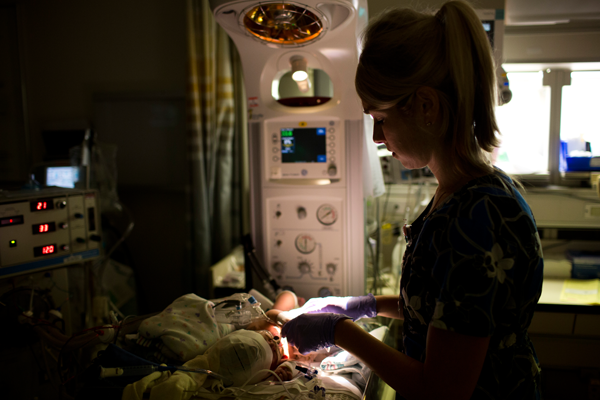 Long-Term Video EEG Monitoring
In the NICU, 12 beds are equipped for long-term video EEG monitoring, which is used to evaluate a baby's brain activity and behavioral activity for an extended period of time. This long-term monitoring is crucial for detecting newborn seizures that are not always physically apparent. Patients are monitored around the clock by registered EEG technologists, and neurologists are always available for consultation when questions arise about an infant's behavior and physical signs. Our neurologists can also remotely access the video and EEG monitoring equipment to assist in treatment planning.
Based on the results of the studies and work-ups, our pediatric epileptologists can detect seizures in an asymptomatic infant and work with the neonatal team to develop individualized treatment recommendations. Learn more about our Comprehensive Epilepsy Program.
Whole Body Cooling
The Neurocritical NICU uses advanced hypothermia treatment, a proven technique for minimizing the effects of hypoxic-ischemic encephalopathy in newborns. Treatment must begin within six hours of birth. We offer the Blanketrol® III Whole Body Cooling System. The NICU also offers a CritiCool transport body cooling device that allows our Transport Team to begin hypothermic therapy at the moment we accept an infant from an outlying facility. That means we can quickly reach more newborns in a wider geographic area with this specialized treatment.