CHOC at Mission Hospital NICU
---
Located on the fifth floor of Mission Hospital, CHOC offers a state-of-the-art, Level 3 neonatal intensive care unit where we provide critical care to newborns.
The NICU at CHOC at Mission Hospital partners closely with the labor and delivery unit at Mission Hospital. Our neonatal teams may be present during high-risk births, and CHOC board-certified neonatologists are present in the hospital at all times. The NICU is a brief elevator ride from where moms recover after delivery and our goal is to ensure they are a partner in their baby's care. For moms who need bed rest prior to delivery, members of the NICU staff may visit prior to delivery to share information about the NICU.
The NICU has an all-RN nursing staff with special experience treating a range of needs in newborns, including multiple births such as twins and triplets.
The Latest Technology and Comforts
The 22-bed unit includes rooms designed for the protection and comfort of premature and critical babies. All beds have the latest histogram monitoring systems that allow staff to track vital signs at a highly detailed level, and several of the beds are equipped for long-term video EEG monitoring. Every bed space is wired with NICVIEW webcam technology, providing families with the ability to see real-time, remote live video of their infant, from anywhere they can log on to the internet.
Parents are welcome in the unit 24 hours a day. Our Ronald McDonald Family Room, located just down the hall, offers limited accommodations, a kitchen and shower facilities for families to use during their stay. We also provide in-unit accommodations for a parent to room-in with their baby prior to going home, to prepare for life after the NICU.
Patient- and Family-Centered Care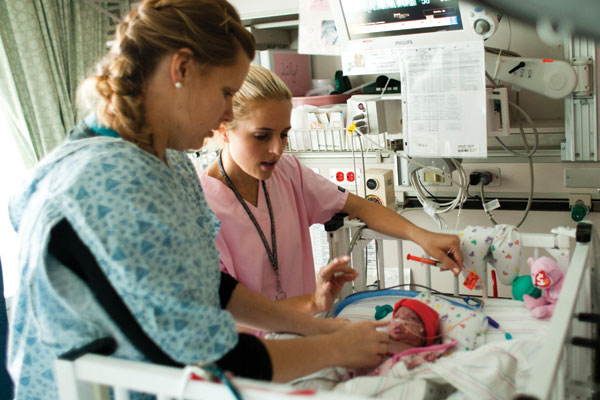 CHOC is committed to patient and family centered care, especially in our NICU. Parents are invited to attend daily rounding with their baby's care team, including physicians, nurses, developmental specialists, dietitians, social workers and other specialists. All team members are in close communication with each other and with families to ensure the best decisions are being made with as much input from the team as possible.
Families also have support services available, including:
Lactation consultants
Volunteer cuddlers who provide extra comfort to babies
Child life specialists to help siblings understand what's happening and prepare for a visit
A family support liaison
A surrogate program that allows a designated family member or friend to stay with baby when parents are away
Spiritual care services.