CHOC has expanded to offer 36 new private rooms at our top-ranked NICU in Orange County.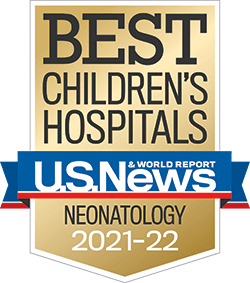 Newborn babies needing critical care now have a private space to get better, with their parents comfortably by their side during their entire stay. In our newly opened neonatal intensive care unit, CHOC has created an environment as much like home as possible—until babies can go home for good.
The new NICU features 36 private rooms with the latest technology and innovations in neonatal care. Located on the fourth floor of the state-of-the-art Bill Holmes Tower, the 24,000-square-foot unit is nearly triple the size of CHOC's prior NICU space.
Private NICU rooms are good for baby
Research has shown that babies in private rooms do better—they gain more weight, require less intravenous nutrition, get fewer infections, require fewer medical procedures and overall, they experience less stress and pain.
Private rooms also give families the privacy they need and deserve. With a place all their own, families can bond with their new baby, have privacy for skin-to-skin holding and breastfeeding, and sleep just a few feet from each other.
Comfort for the whole family
The new NICU features a multipurpose family lounge where grandparents and visitors can stay close, an activity room just for siblings, a kitchen and dining area, a family bathroom and shower, and other enhanced amenities. For families with multiples, one large room can accommodate twin newborns, and other rooms adjoined by doors can accommodate twins and triplets. All rooms are equipped with NICVIEW web cams, allowing families to log on and see real-time, live video of their infant remotely.