The CHOC Children's Gift Shop is proud to offer a wide variety of merchandise for our patients, visitors and staff.
The CHOC Children's Gift Shop will gladly take phone orders for items to deliver to any CHOC patient. Just call 714-509-8668.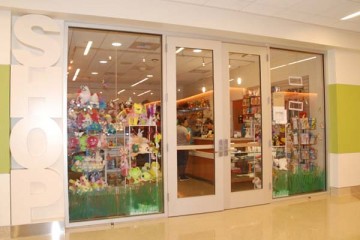 Toys, Activities and Stuffed Animals
From arts and crafts and toys to games and stuffed animals of all sizes, the CHOC gift shop has something for everyone, at any age. We strive to offer a continually changing inventory with items in every price range.
CHOC Items
From Choco bear to CHOC Children's logo wear, the CHOC gift shop has items to help you show your CHOC pride.
Gift Items
We are proud to offer an assortment of frames, mugs, figurines, inspirational trinkets and other gift items for every occasion.
Greeting Cards and Balloons
For any occasion from birthdays to anniversaries, the CHOC gift shop offers a variety of greeting cards and balloons. Packaged note cards are also available.
Please note – CHOC Gift Shop staff is unable to sell balloons for patients in any of the intensive care units (ICU).
Candy and Snacks
We offer a wide variety of candy and snacks for every craving, including Sugar Free offerings.
Sundries
Need an emergency item? We offer an array of items including personal and grooming needs, small packs of over-the-counter medications, disposable cameras and batteries.
We also Offer:
Magazines
Postage Stamps
Discounted movie tickets
Hours
Monday – Friday, 9 am – 7 pm; Saturday and Sunday, 11 am – 6 pm
We accept cash plus Visa, Master Card, American Express, Discover, and Associate Payroll Deductions.