Why would a child need an upper endoscopy?
An upper endoscopy may be performed to diagnose structural or functional problems of the esophagus, stomach and/or duodenum. These may include, but are not limited to, the following:
Weight loss or anorexia (loss of appetite)
Upper abdominal pain or chest pain that does not appear to be related to the child's heart
Continuous vomiting from an unknown cause
To remove obstructions like food or coins in the esophagus
To better understand damage caused by the ingestion of substances like lye and household detergents
Suspected eosinophilic esophagitis or reassessment of the esophagus after food elimination or reintroduction.
Your child's doctor may recommend an upper endoscopy procedure to:
Evaluate symptoms: An upper endoscopy procedure will help your child's doctor determine what is causing any symptoms related to digestion, including abdominal pain or discomfort, nausea, vomiting and difficulty swallowing.
Make a diagnosis: Your child's doctor will then analyze the results of the procedure in order to make a diagnosis. This may involve a biopsy, or tissue sampling, to test for any diseases or underlying conditions such as anemia, inflammation, diarrhea, bleeding or cancers of the digestive system.
Establish a treatment plan: After a diagnosis is made, your child's doctor will come up with a treatment plan to resolve any symptoms. During this step of the procedure, a special tool can be passed through the endoscope in order to treat any primary concerns, like stopping any bleeding from broken vessels, widening a narrow esophagus or removing any blockages.
How is an endoscopy performed?
To perform the procedure, the doctor uses a long, flexible, lighted tube called an endoscope. The endoscope is guided through the patient's mouth and throat, then through the esophagus, stomach and duodenum (first part of the small intestine). The physician can examine the inside of these organs and detect abnormalities.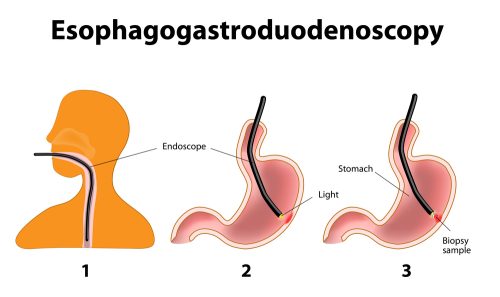 In addition to performing visual examination of the UGI tract with the endoscope, the doctor can insert instruments through the endoscope to get tissue samples for a biopsy, remove foreign objects, instill air or fluid, stop bleeding or perform therapeutic procedures, such as endoscopic surgery, laser therapy or dilatation (opening up). A video camera in the endoscope provides images onto a TV-like monitor.
What are the risks involved with endoscopy?
As with any procedure, complications can occur. Some possible risks may include, but are not limited to:
Infection
Bleeding
Perforation (a tear in the lining) of the duodenum, esophagus or stomach.