Emergency and Trauma at CHOC Children's at Mission Hospital
When your child has a medical emergency, we know you want the best pediatric care—and fast.
CHOC Children's at Mission Hospital is a dedicated children's hospital located inside Mission Hospital. Through this partnership, South Orange County families have access to pediatric expertise when their child has an emergency or trauma.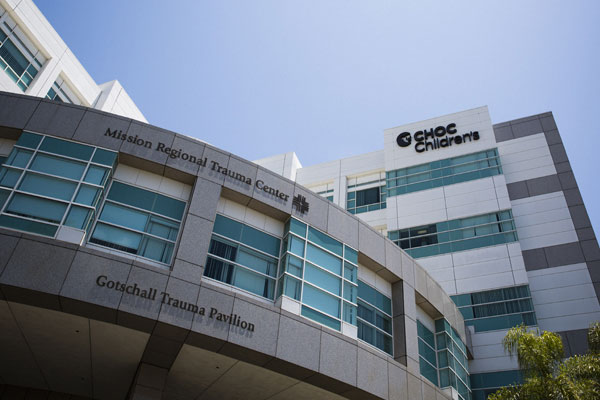 Emergency Department
The emergency department treats everything from broken bones to small abrasions to headaches. No matter is too small, and no patient is turned away. At Mission Hospital ED, in partnership with CHOC Children's at Mission Hospital, patients and families have access to:
Pediatric-trained nurses and emergency physicians
Pediatric specialists
In-house pediatrician & neonatologist available 24/7
Waiting room just for kids
Pediatric emergency response team
Child life specialists to provide comfort and distraction at the bedside
We know trips to the ER aren't planned in advance, but if you are able, make sure you have everything necessary for an ED visit. Learn about what to bring to the ED.
When I should take my child to the emergency department?
Knowing when a child's condition reaches a level in which it needs emergency care can be difficult. After all, children are not small adults. They might display different symptoms than adults, and some symptoms that aren't serious for an adult can be very serious – even dangerous – for children.
Please call 911 immediately if your child needs immediate medical attention and you cannot safely transport your child to the hospital.
Staff members at CHOC advise parents to follow their parental instincts. Your child should be taken to the ED when:
• They are experiencing rapid and fast breathing, head trauma, trauma with loss of consciousness or vomiting, motor vehicle accidents, severe abdominal pain or dehydration.
• An infant less than 28 days old has a fever of 100.4 degrees or higher.
Pediatric Trauma Center
CHOC Children's and Mission Hospital together provide the only Level II Pediatric Trauma Center in South Orange County. Our dedicated team knows that children are not small adults, and staff members have special training in treating kids.
To be designated as a trauma center by the American College of Surgeons, CHOC and Mission Hospital fulfilled strict criteria to provide the highest quality of care to meet all pediatric patients' needs. The trauma center provides 24-hour coverage by board-certified trauma surgeons. In addition, there is quick access to specialties including orthopedic surgery, neurosurgery, anesthesiology, radiology and critical care.
Directions
CHOC Children's at Mission Hospital has been serving pediatric emergency department and trauma patients for over 25 years.
Emergency Department and Pediatric Trauma Center
CHOC Children's at Mission Hospital
27700 Medical Center Rd.
Mission Viejo, CA 92691
Phone: 949-364-1400