Schroth Method: Physical Therapy for Scoliosis
When it comes to scoliosis, you want the least invasive treatments, without interrupting childhood. The Schroth Method is a low-impact form of physical therapy, with exercises designed to stop curve progression and improve quality of life. In some cases, it can even prevent the need for spine surgery.
CHOC physical therapists are among a limited number of specialists in the nation who are certified in the Schroth Method.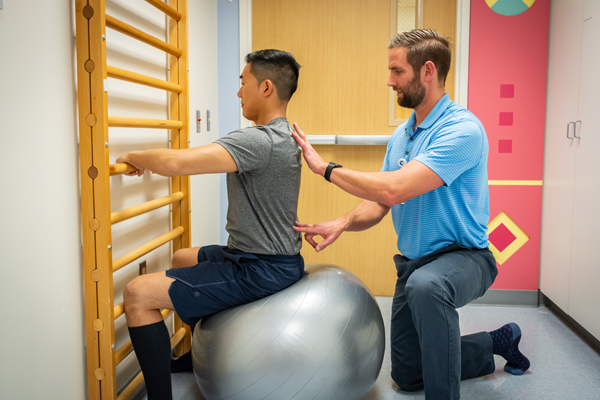 What is the Schroth Method?
The Schroth Method is a research-supported type of physical therapy for the conservative management of scoliosis. Our Schroth-certified therapists have advanced training so they can customize a physical therapy program based on your age, skeletal maturity and specific spine curvature.
Schroth therapy can help stop your scoliosis from progressing and lower your chance of needing surgery. The goals of the Schroth Method are to:
Make you more aware of your posture
Help correct your posture by improving muscle strength and endurance
Improve breathing quality and increase lung capacity
Decrease joint pain related to muscle imbalances from the spinal curve
Can Schroth exercises cure scoliosis?
The Schroth Method does not cure scoliosis, but in some cases it can stop your scoliosis from getting worse.
What are Schroth exercises for scoliosis?
Each session typically lasts about 45 minutes, with the first session closer to 60 minutes. The length of a Schroth program may vary, but typically consists of one or two sessions per week, for up to 12 weeks.
Your physical therapist will assist you with low-impact exercises such as:
Holding your body in standing, sitting and lying down positions
Working with props such as a wall ladder, poles, exercise bands and therapy balls
Practicing breathing exercises
Learning posture correction techniques
How do Schroth exercises help treat scoliosis?
The Schroth Method teaches you how to align your posture naturally, and helps you strengthen the muscles that support your spine, so you can function at your best.
Upon completing our Schroth physical therapy program, the skills, exercises and positions that you've learned should feel like a habit and become a natural part of your daily life.
The goal of Schroth therapy is to help you avoid surgery, participate in physical activities and live a normal life with scoliosis.
Contact Us
Looking for a physical therapist that offers Schroth exercise therapy? Please call CHOC Rehabilitation Services at 714-509-4220 for more information.

We accept most insurance providers as well as cash. A physician's referral is required. Download a referral form here.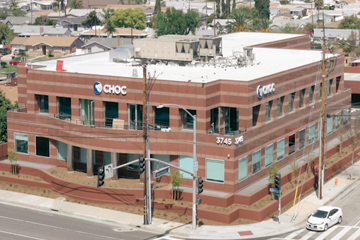 3745 W. Chapman Ave., Suite 200 | Orange, CA 92868 | 714-509-4220