We understand it may be overwhelming to hear that your child has a tethered spinal cord. You will have many questions about the disorder, and we are here to answer them. Our team of specialists will be with you from the day of the diagnosis, through surgery and continuing into your child's growth to ensure the best possible outcome.
What is tethered spinal cord syndrome?
A tethered spinal cord happens when the spinal cord is fixed to the spinal canal, instead of floating free as it normally does. When the spinal cord is fixed to the spinal canal, it causes the cord to stretch like a rubber band, causing pain and potential damage to the spinal nerves as the child grows. It can also interfere with blood supply to the spinal cord.
What are the causes of tethered spine syndrome?
Some children are born with a tethered cord because of a problem during the development of the spine, but there are other causes, which may include:
A history of spine trauma or previous spinal injury
Previous spinal surgery
Dermal sinus tract – a rare congenital deformity that consists of lesions near the spinal column
Diastematomyelia – a congenital deformity in which the spinal cord splits at the base
A tumor on the spine
What are the symptoms of tethered spinal cord?
Children may have several tethered spinal cord symptoms, including:
A tuft of hair at the base of the spine
A sacral dimple – a dimple or divot at the end of the spine. A sacral dimple is common in infants and usually goes away on its own as the child grows. When it is associated with a tethered spine, the dimple is usually seen with other signs or symptoms
A fatty mass on the back near the base of the spine
Back pain that increases with activity
Skin discoloration near the base of the spine
Changes in leg strength
Curvature of the spine (scoliosis)
Bowel and bladder problems – more common with older children as strain on the spinal cord increases.
How is tethered spinal cord diagnosed?
Although it is possible to diagnose a tethered spinal cord in utero, most often it is diagnosed when a child starts to have signs or symptoms. It may also be discovered when a child experiences spinal cord surgeries or trauma.
If it is suspected that your child has a tethered spinal cord, several tests may be performed to confirm the diagnosis, including:
Ultrasound – an ultrasound is used to take images of spinal cord movement, to indicate if the cord is tethered.
MRI – if an ultrasound doesn't give definitive results, an MRI can be used to get in-depth images of the spinal cord and the tissue surrounding it to see if the cord is tethered.
Surgery and treatment options for tethered spinal cord
When a child is diagnosed with a tethered cord, surgery is the most common treatment. You can expect the surgery to take three to six hours. Your child will remain in the hospital under supervision for five to seven days, depending on their recovery.
Tethered spinal cord may reoccur due to scar tissue resulting from surgery. CHOC neurosurgeons offer a novel procedure to shorten the bones of the spine, which can prevent the cord from tethering again and lowers the risk for neurological problems.
Tethered Spinal Cord Surgery Recovery
Our team will follow your child throughout their growing years. Follow-up appointments will be planned at least once a year, until your child is fully grown. That way you can rest assured that your child is growing as strong as possible.
Why CHOC?
As a parent, your first priority is choosing a hospital and team of doctors who can provide the best outcome for your child and your family. The CHOC Neuroscience Institute is a place dedicated to caring for kids with complex and rare medical issues. Our specialists have devoted their training, research and practice to caring specifically for children.
We practice a team approach to healing. Neurological conditions in children require a team of caregivers including neurologists, orthopedic specialists, nurses, social workers, rehabilitation therapists and more. Our team works together on every aspect of your child's care from diagnostics to surgery and follow-up care.
We care about your child deeply, and will care for the whole family. We make the experience seamless, and that includes coordinating care, communicating with your child's primary care physician, and discussing your child's treatment with your family as long as you need to get all of your questions answered. CHOC is here for you.
We understand that a hospital can seem overwhelming for both the child and their family. Our child life specialists work with families to "normalize" hospital equipment and procedures so you can concentrate on healing instead.
Our surgical center is outfitted with advanced imaging, communication and robotics technologies, specific to children and their needs. This ensures a high level of proficiency and safety for the children under our care.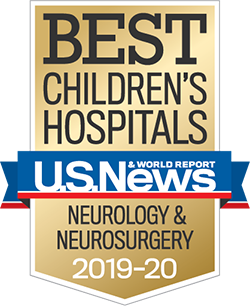 Meet Our Pediatric Neurosurgeons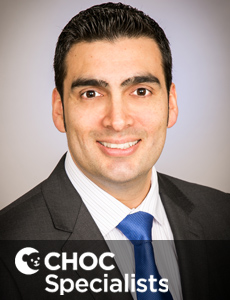 Specialty: Neurosurgery
Appointments: 714-509-7070

Dr. Joffre Olaya specializes in neurosurgery. He sees kids and teens at CHOC Hospital in Orange and CHOC at Mission Hospital.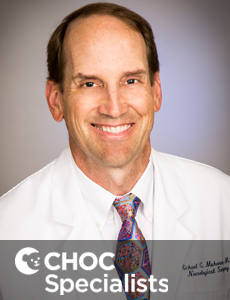 Specialty: Neurosurgery
Appointments: 714-509-7070

Dr. Michael Muhonen is a board certified neurosurgeon at CHOC, treating babies, kids and teens with neurological disorders.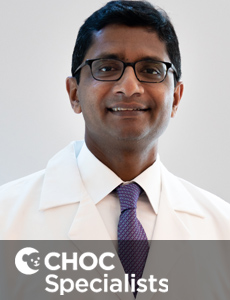 Specialty: Neurosurgery
Office: 714-509-7070

Dr. Suresh Magge is board certified in neurosurgery who treats kids and teens in Orange County.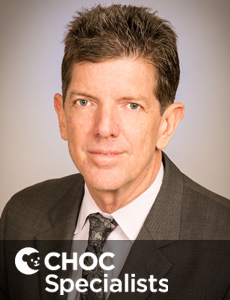 Specialty: Neurosurgery
Appointments: 714-509-7070

Dr. William Loudon is a board-certified pediatric neurosurgeon at CHOC Hospital.