When you're pregnant, you want the best for your unborn baby. We know a high-risk pregnancy or unexpected diagnosis can be scary. At CHOC, we deal with the unexpected every day, and have helped many families plan for their baby's birth and medical care.
If your baby is at risk of having congenital heart disease (CHD), a CHOC board-certified pediatric cardiologist will perform an echocardiogram. If a heart defect is detected, we will counsel you on what to expect, prenatal interventions you may need, delivering your baby safely and the medical treatment they will receive afterward. Our goal is to answer all of your questions and provide you and your family peace of mind.

Who Should Have a Fetal Echocardiogram
Fetal echocardiograms are not needed for all pregnancies. If your baby's heart was evaluated during a detailed, second-trimester ultrasound, sometimes referred to as an anatomical survey, you may not require further testing with a fetal echocardiogram.
Pregnancies may be at risk for congenital heart disease for a variety of reasons. If you are pregnant with a child who is at risk for a congenital heart defect, you may be referred to CHOC by your OB/Gyn, perinatologist or health care provider for a fetal echocardiogram by a board-certified pediatric cardiologist.
We also welcome pregnant women who would like to schedule directly with us for a screening echocardiogram, additional consultation or second opinion.
You may see a CHOC fetal cardiologist for a number of reasons, including:
Fetal risk factors include:
During your second-trimester ultrasound, there was a suspected abnormality of the heart
Abnormal heart rate or arrhythmia on routine screening ultrasound
A suspected genetic abnormality
If there is an abnormality in another organ, such as the brain or kidneys, there may be an increased risk of associated heart disease
Identical twins
A two-vessel umbilical cord or abnormality with the placenta
Fluid accumulation in the baby
Maternal risk factors include:
Maternal diabetes mellitus prior to conception, during  first-trimester or uncontrolled diabetes mellitus
Assisted reproductive technology (IVF)
Metabolic disease
Autoimmune disease (Sjorgren's syndrome or Lupus)
Medication or drug exposures
Maternal infections
Familial risk factors include:
Congenital heart disease in the mother, father or sibling
What To Expect At Your Appointment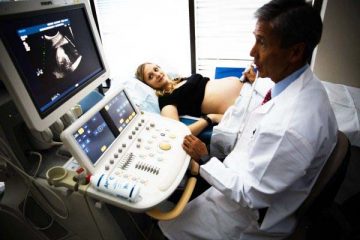 CHOC board-certified pediatric cardiologists perform fetal echocardiograms in their offices to help detect heart abnormalities before birth. At the time of your appointment, your fetal cardiologist will deliver a comprehensive diagnosis and care plan for you and your family.
Treating heart conditions can be complex and often requires a team of caregivers. At CHOC, our cardiologists understand the specialized expertise and multidiscplinary approach needed to care for congenital heart disorders.
Depending on your child's condition, you will be referred to other experts at the CHOC Heart Institute, such as cardiac interventionalists, cardiac electrophysiologists, cardiac surgeons and heart failure specialists as needed. Early intervention improves the chance of survival after delivery for babies with severe defects.
The CHOC Difference
CHOC offers the only comprehensive fetal cardiology services in Orange County
Board-certified pediatric cardiologists perform the fetal echocardiograms in their offices using state-of-the-art ultrasound technology
Comprehensive diagnosis and care plan for you and your family at the time of your echocardiogram
Same-day and next-day appointments offered for urgent fetal cardiology consultations
Dedicated fetal cardiology coordinator for patient and referring provider access, patient support and organization of all community resources
Maintain continued care your primary obstetrician or perinatologist and delivery center, when appropriate
Our fetal cardiology team coordinates with the chosen mother-baby unit and NICU teams in anticipation of deliveries with specialized needs
Our fetal cardiology team has advanced training in fetal cardiology and fetal echocardiograms
The CHOC fetal cardiology program is the only lab in the county with fetal accreditation through the Intersocietal Accreditation Commission (IAC), ensuring an advanced level of expertise
Frequently Asked Questions
To schedule a consultation please call (714) 509-3960. Or to request more information, fill out the form below and one of our fetal cardiology care coordinators will reach out.