Histiocytosis Treatment Program
At the Hyundai Cancer Institute at CHOC, we have a comprehensive, multidisciplinary team of experts addressing Histiocytic syndromes  such as Langerhans Cell Histiocytosis (LCH) and immune dysfunction problems leading to Hemophagocytic Lymphohistiocytosis (HLH). LCH may be caused by abnormal mutation in the tumor that leads to production of abnormal cells that cluster together and can attack the skin, bones, lung, liver, spleen, gums, ears, eyes, and/or the central nervous system. In some cases, the disease is limited to one area of the body and spontaneously regresses and in other cases, histiocytosis spreads to many organs and can be chronic and debilitating.
At CHOC, we are participating in both international and national clinical trials and offer innovative targeted therapies, immunotherapy as well as a robust blood at marrow transplant program. The Histiocytosis Treatment Program at CHOC has brought together leaders in this field. In fact, the Hyundai Cancer Institute is one of the top histiocytosis referral centers in the Southwest. When a patient cannot travel to us, our experts frequently advise and collaborate with physicians at other institutions. Our multidisciplinary team prides itself on keeping up on the latest trends in treatment by presenting their findings on histiocytosis at international conferences.
What We Treat
According to Histiocyte Society, most people diagnosed with histiocytosis are children under the age of 10. Our specialists treat all forms of histiocytosis including but not limited to:
Langerhans cell histiocytosis (LCH)
Hemophagocytic lymphohistiocytosis (HLH)
Juvenile Xanthogranuloma (JXG)
Rosai Dorfman Disease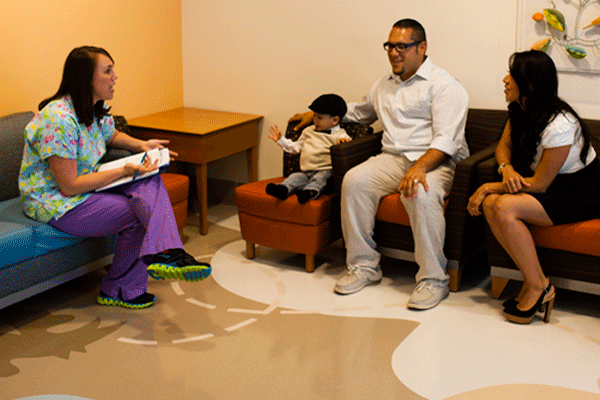 Clinical Trials and Research
Two months after their son Ricky was born on Dec. 6, 2012, Richard Alcedo and his wife, Wendy, noticed he was getting small bumps on his face. They took Ricky to several doctors until a dermatologist did a skin test and diagnosed him with JXG (juvenile xanthogranuloma), a type of histiocytosis. JXG is an extremely rare disease that even in its common form affects only one in 1 million children, typically those 10 or younger. Tests confirmed that Ricky not only had JXG, but systemic JXG—a rare form of the disease that afflicts only one in 10 million children.
Dr. Lilibeth Torno is one of 10 physicians at the Cancer Institute who are immersed in such cutting-edge research as molecular and genetic profiling to find out what triggers such diseases as LCH, JXG or HLH—and what can be done to cure them. The histiocytosis experts at the Hyundai Cancer Institute are leaders in the treatment of histiocytosis with access to early-stage clinical trials and the latest research on treatments.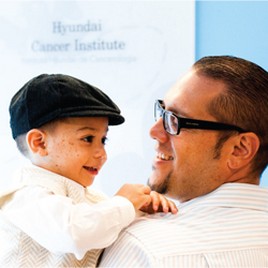 Know the basics about life with a child with histiocytosis.
We understand that a histiocytosis diagnosis is overwhelming. To make the treatment process a little less confusing, the Histiocytosis Team has put together a list of frequently asked questions and answers to make the process a little easier to discuss with family and friends. The information should not replace that provided by the child's health care team.
Meet the Histiocytosis Team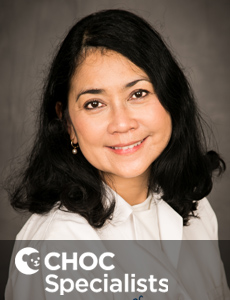 Specialty: Oncology
Appointments: 714-509-8636

Dr. Torno is a CHOC Specialist in pediatric oncology and the medical director of the After Cancer Treatment Survivorship (ACTS) Program.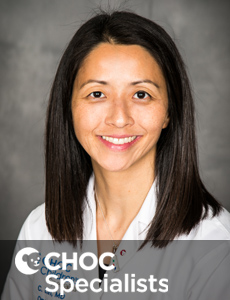 Specialty: Oncology
Appointments: 714-509-4348

Dr. Lin is a CHOC Specialist in pediatric hematology/oncology and is board certified in pediatrics.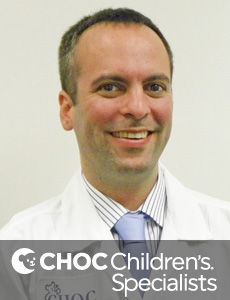 Specialties: Hematology, Pediatrics
Appointments: 888-770-2462
Office: 714-509-8459

Dr. Buchbinder is board certified in pediatrics and pediatric hematology-oncology and treats kids and teens in Orange County.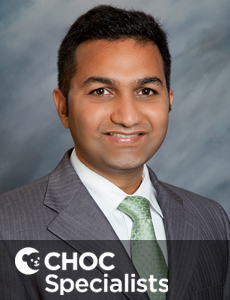 Specialty: Oncology
Office: 714-509-4348

Dr. Rishikesh Chavan is a board certified pediatric oncologist at CHOC Hospital in Orange County.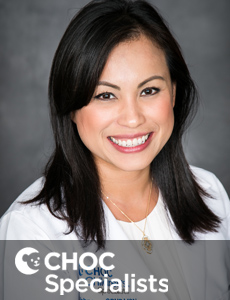 Specialty: Nurse Practitioner – Oncology
Appointments: 714-509-8636
Office: 714-509-4348

Natalie Johnson is a nurse practitioner who specializes in oncology. She provides care for pediatric cancer patients at CHOC Hospital in Orange.