CHOC Pressroom
CHOC NIGHT AT ANGEL STADIUM
September 24, 2012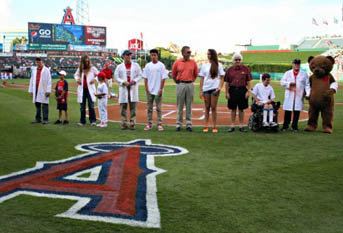 From OC Family.com
Published September 24, 2012
Rally Monkey Mom - By Jenelyn Russo
I recently had the pleasure of joining Choco Bear, some awesome kids and several of the great doctors from CHOC Children's at Angel Stadium for their first CHOC Night.
Choco Bear led the way out onto the field for the pre-game festivities that included introducing some great CHOC kids and doctors to the fans in attendance. And all throughout the game kids who have been treated at CHOC got to participate in several memorable activities.
Like eight-year-old Erin Nuelle, who served as the Angels honorary "Bat Girl" for the evening alongside her pediatrician and softball coach, Dr. Suzy McNulty.
Nine-year-old Ethan Gonzalez was joined on the infield grass by Dr. Sharief Taramen. And Andrew from Anaheim got to participate in the "Steal Third" event.
In addition to the kids and doctors who were a part of the in-game activities, several kids and families who have received life-changing treatment at CHOC were in the stands cheering the Angels on to victory. And what a game they saw as 21-year-old Angel rookie phenom Mike Trout put his mark on both the start and finish to the game by leading off with a home run and making the final out by robbing Detroit Tigers' Prince Fielder of a home run to end the game and light up the halo.
It was fantastic to see the Angels and CHOC Children's partnership in the spotlight that night. And it's a partnership that makes perfect sense. Just a few miles from the Big A, CHOC Children's is our county's only freestanding children's hospital. My guess is CHOC has either treated members of your own family or someone you know. Their reach and impact in our community is tremendous.
And if you've driven by their campus recently, you know they have a beautiful new 425,000sf tower that is scheduled to open in spring of 2013. You can check out more details about the tower here. It's been great to watch this beautiful building progress over the past few years. And it's even better to know that this expansion will be used to bring hope and healing to so many families in our community and surrounding communities.