CHOC Pressroom
CHOC FOLLIES XV NETS MORE THAN $500K FOR CHOC CHILDREN'S
April 10, 2012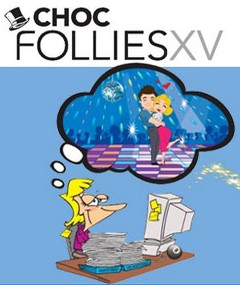 More than 2,300 people enjoyed a weekend of laughter and song, courtesy of CHOC Follies XV's original musical production of "Christina and the Crystal Ball, a Cinderella Story for the Social Net Set." This year's production, which netted more than $500K for CHOC Children's, took place at the Robert B. Moore Theatre in Costa Mesa from Thursday, March 29 through Saturday, March 31. The musical was a hilarious spoof on the classic fairy tale with a modern online twist, generously sponsored by XCARET Family Foundation.
Over the past 15 years, more than 1,000 cast members have entertained people in 60 performances of the Follies, netting almost $6 million for CHOC Children's. The Follies was conceived in 1997, and has since been nurtured by Founder and Executive Producer Gloria Zigner. For her work with CHOC Follies, she will receive a Helena Modjeska Cultural Legacy Award for Community Visionary in September at the 13th Annual Orange County Arts Awards at the Segerstrom Center for the Arts.
"It's hard to describe the magic and the spirit surrounding the Follies," said Zigner. "Every year, we start with a kernel of an idea, and before we know it, it takes root and grows into the amazing productions you see - thanks to the unbridled creativity and focus of our wonderful production team, and the hard work and determination of our dedicated cast members. I am truly grateful to all of them, and also to the ongoing commitment of the wonderful sponsors in our community who make the CHOC Follies possible each year."
The Follies production team includes Associate Producer Lois Augustine, Director John Vaughan, Music Director Doug Austin, and Choreographer Lee Martino. Co-chairs for the event were Leslie Cancellieri, Sandy Segerstrom Daniels and Dale Skiles. This year's cast featured Broadway veteran April Malina in the lead role of "Christina." CHOC Follies newcomer, Jarred Barnard, played her handsome prince.
As in last year's CHOC Follies production, life imitated art when popular chef and restaurateur Pascal Olhats brought the house down by playing a flamboyant chef in the show. This year, on air reporter for KCBS-KCAL TV Michele Gile hammed it up in the role of a "Hollywood" reporter interviewing Lady Gaga.
"On behalf of CHOC Children's, I extend my deepest gratitude to Gloria, to the cast and crew, and to the sponsors and guests of 'Christina and the Crystal Ball,'" said Graig Eastin, vice president, CHOC Children's Foundation. "The support we receive each year from the CHOC Follies is invaluable in helping us achieve our mission and vision."
This year's proceeds will support the construction of The Voice™, an interactive broadcast multimedia center that provides patients with an outlet to engage in creative activities related to broadcast media. It's another step forward in providing avenues of healing for patients at CHOC Children's. The Voice™, a project of the Ryan Seacrest Foundation, is scheduled to open next year in the hospital's new seven-story patient care tower.
CHOC Follies
Founded by Executive Producer Gloria Zigner in 1997, the CHOC Follies has mobilized thousands of Orange County residents to sing, dance and delight audiences with hilarious original musical comedies year after year. Netting nearly than $6 million in donations for CHOC Children's, the CHOC Follies has become a powerful Orange County institution in its own right.

Named one of the best children's hospitals by U.S. News & World Report (2014-2015) and a 2013 Leapfrog Top Hospital for the highest quality of care, Children's Hospital of Orange County (CHOC Children's) is exclusively committed to the health and well-being of children through clinical expertise, advocacy, outreach, education and research that brings advanced treatment to pediatric patients. Affiliated with the University of California, Irvine, CHOC's regional health care network includes two state-of-the-art hospitals in Orange and Mission Viejo, many primary and specialty care clinics, a pediatric residency program, and four clinical centers of excellence - the CHOC Children's Heart, Neuroscience, Orthopaedic and Hyundai Cancer Institutes..

CHOC earned the Gold Level CAPE Award from the California Council of Excellence, the only children's hospital in California to ever earn this distinction, and was awarded Magnet designation, the highest honor bestowed to hospitals for nursing excellence. Recognized for extraordinary commitment to high-quality critical care standards, CHOC's Pediatric Intensive Care Unit (PICU) is the first in the United States to earn the Beacon Award for Pediatric Critical Care Excellence.
###
Media Contact:
Denise Almazan, Director of Public Relations
phone: (714) 509-8680
email: pr@chocchildrens.org