CHOC Pressroom
LEONARD SENDER, M.D., MEDICAL DIRECTOR OF CHOC CHILDREN'S CANCER INSTITUTE, HELPS LAUNCH JOURNAL OF ADOLESCENT AND YOUNG ADULT ONCOLOGY
March 17, 2011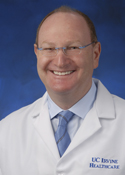 Dr. Leonard Sender, Medical Director of the CHOC Children's Cancer Institute and Director of the Young Adult Cancer Program at the University of California, Irvine's Chao Family Comprehensive Cancer Center, is adding the role of Editor-in-Chief of a new journal to his Curriculum Vitae. The Journal of Adolescent and Young Adult Oncology, a multidisciplinary peer-reviewed quarterly publication of Mary Ann Liebert, Inc., will launch in April 2011. The first issue features a roundtable discussion, "Trailblazers in Adolescent and Young Adult Oncology," with Dr. Sender as one of the subject experts. The roundtable is available online at http://www.liebertpub.com/prdetails.aspx?pr_id=874.

"Adolescent and Young Adult (AYA) cancer presents the medical community with several unique problems. First, it requires true collaboration between pediatric and medical oncologists as the age range crosses both disciplines. Next, our AYA cancer patients not only have cancer but are also often dealing with ongoing developmental and psychosocial issues at the same time; as such, we must be aware of how a cancer diagnosis interferes with their normal development. The roundtable discussion helps put AYA cancer in perspective for those who have not yet considered the 15-39 year-old cancer patient as a distinct and relevant patient group," explains Dr. Sender.
Dr. Sender is joined in the roundtable discussion by Archie Bleyer, M.D., Medical Director of Clinical Research for the St. Charles Health System in Bend, Oregon; Karen Albritton, M.D., Director of the Adolescent and Young Adult Oncology Program at Cook Children's Medical Center and University of North Texas Health Science Center in Fort Worth, Texas; Ronald Barr, MB ChB., M.D., Professor of Pediatrics, Pathology and Medicine at McMaster University in Canada; and Ian Lewis, MB ChB, Professor of Cancer Research in Children and Young People at Leeds Teaching Hospital in the United Kingdom. These physicians are considered to be pioneers in the field, helping to mold and advance this area of specialization (AYA).
Adolescents and young adults (ages 15-39) are a distinct group of cancer patients who have not experienced the same improvements in overall survival compared to their younger and older peers. Survivorship issues, including growing concern over the unintended consequences of cancer (infertility, heart and lung damage, and metabolic problems), will be addressed in the Journal of Adolescent and Young Adult Oncology (JAYAO). Additionally, JAYAO will provide a forum for AYA cancer research and practice advances, and feature a variety of content, including peer-reviewed articles, clinical trials highlights, case studies, and advocacy efforts.
The CHOC Children's Cancer Institute, in partnership with University of California, Irvine's Chao Family Comprehensive Cancer Center, has a dedicated AYA program. Under the direction of Dr. Sender, the program offers the full spectrum of services, from sophisticated clinical protocols to psychosocial services such as college and work counseling geared to the adolescent patients. At CHOC, the patient is closely managed by an integrated team of experts, who review each case and customize the care path for each patient according to his or her specific needs.The program gives adolescents access to the latest opportunities for a cure, tailoring treatment specifically to their age group. CHOC offers age-appropriate, disease-appropriate treatment in an environment that allows individuals to feel comfortable and at ease.

Named one of the best children's hospitals by U.S. News & World Report (2014-2015) and a 2013 Leapfrog Top Hospital for the highest quality of care, Children's Hospital of Orange County (CHOC Children's) is exclusively committed to the health and well-being of children through clinical expertise, advocacy, outreach, education and research that brings advanced treatment to pediatric patients. Affiliated with the University of California, Irvine, CHOC's regional health care network includes two state-of-the-art hospitals in Orange and Mission Viejo, many primary and specialty care clinics, a pediatric residency program, and four clinical centers of excellence - the CHOC Children's Heart, Neuroscience, Orthopaedic and Hyundai Cancer Institutes..

CHOC earned the Gold Level CAPE Award from the California Council of Excellence, the only children's hospital in California to ever earn this distinction, and was awarded Magnet designation, the highest honor bestowed to hospitals for nursing excellence. Recognized for extraordinary commitment to high-quality critical care standards, CHOC's Pediatric Intensive Care Unit (PICU) is the first in the United States to earn the Beacon Award for Pediatric Critical Care Excellence.
###
Media Contact:
Denise Almazan, Director of Public Relations
phone: (714) 509-8680
email: pr@chocchildrens.org