Hyundai Cancer Institute :: Histiocytosis Treatment Program
The Histiocytosis Treatment Program at the Hyundai Cancer Institute at Children's has brought together two of the country's leading histiocytosis specialists. In fact, the Cancer Institute is one of the top histiocytosis referral centers in the Southwest. When a patient cannot travel to us, our experts frequently advise and collaborate with physicians at other institutions. Our multidisciplinary team prides itself on keeping up on the latest trends in treatment but presenting their findings on histiocytosis at international conferences.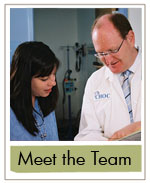 What We Treat
We treat all forms of histiocytosis including but not limited to:
Langerhan's cell histiocytosis (LCH)
Hemophagocytic lymphohistiocytosis (HLH)
Juvenile Xanthogranuloma (JXG)
Histiocytosis Patient and Family Resources
Along with a histiocytosis diagnosis comes a number of questions about treatment and day-to-day life. The histiocytosis case coordinator has developed a list of
frequently asked questions and answers
asked by patients and their families.