Hyundai Cancer Institute :: Meet the Neuro-oncology Treatment Program Team
The multidisciplinary Neuro-oncology Treatment Program at the Hyundai Cancer Institute at CHOC Children's is one of a handful of such teams in the region. Our unique approach allows us to offer our patients virtually all of the services they need under one roof—including access to our nurse practitioner, case coordinator, neuropsychologist, pediatric oncologist, neurosurgeons, neuroradiologists, radiation oncologists, social workers, dietitian and speech, occupational and physical therapists. This team approach allows our specialists to easily communicate with one another about patient needs and thus provide patients with a well-rounded treatment plan.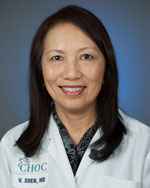 The Neuro-oncology Treatment Program is led by
Violet Shen, M.D.,
who currently serves as clinical director of research oncology, and has been dedicated to the patients and research at CHOC Children's for over 20 years. Dr. Shen earned her medical degree from National Taiwan University, College of Medicine and did her internship in pediatrics at St. Vincent's Hospital and Medical Center in New York. She went on to do her residency in pediatrics at Cornell Medical College-North Shore University Hospital and her fellowship in pediatric hematology/oncology at Cornell Medical College-New York Hospital and Memorial Sloan-Kettering Cancer Center. She is a board-certified pediatrician and pediatric hematologist/oncologist. Dr. Shen is leading the way for the Cancer Institute as the principal investigator for the Children's Oncology Group (COG) studies and phase I research, and the COG phase I consortium.
Associate Spotlight: Marcos Di Pinto, Ph.D.
Right from the start, Marcos Di Pinto, Ph.D., is involved with each neuro-oncology patient at the Cancer Institute. As a neuropsychologist, he works with patients and families to help them understand how cancer impacts brain development and function. He continues working with patients throughout their treatment and with follow-up care in the years after treatment ends.
Read more about Marcos...