Hyundai Cancer Institute :: Neuro-oncology Treatment Program
The Neuro-oncology Treatment Program at the Hyundai Cancer Institute at CHOC Children's is a team of highly dedicated and well-trained medical specialists. The team's mission is to provide the most advanced and effective treatments for pediatric tumors of the brain and spine while offering family-centered care that focuses on the needs of the patient and family as a whole.
Right from the start, the Neuro-oncology Treatment Program team works closely with patients and their families to ensure they understand each stage of the treatment process. Treatment plans are discussed and coordinated at routine neuroscience tumor board meetings. These meetings are coordinated among all the neurosurgeons, radiation oncologists, oncologists, neuropathologists and other medical staff. While carefully planning a patient's treatment, the team use all resources available to minimize any possible side effects from the tumor and associated treatments, and regularly monitors patients for possible side effects. Patients undergo regular assessments to track their cancer's response to therapy throughout the course of treatment. Once treatment is complete, the neuro-oncology team follows up with patients for several years, and the team's neuropsychologist works with patients and their families to facilitate the transition back to school and regular day-to-day activities.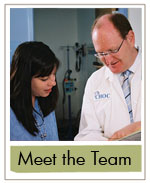 What We Treat
The neuro-oncology team treats all pediatric tumors of the brain and spine including, but not limited to:
Astrocytoma
Atypical Teratoid/Rhabdoid Tumor (ATRT)
Brain Stem Glioma
Choroid Plexus Tumors
CNS Lymphoma (Primary Malignant Lymphoma)
Craniopharyngioma
Ependymoma
Ganglioglioma
Germ Cell Tumor
Glioblastoma Multiforme (GBM)
Medulloblastoma (MDL)
Mixed Glioma
Oligodendroglioma
Optic Nerve Glioma
Primitive Neuroectodermal Tumor (PNT)
Neuro-oncology Patient and Family Resources
To make the treatment process a little less confusing and easier to navigate, the team has assembled a helpful
education packet
that our patients and their families find very helpful throughout treatment and recovery.
In addition to the education packet, the neuro-oncology team hosts an annual Neuro-oncology Family Education Day. The event provides families with the opportunities to learn about brain cancers and first-hand accounts of life after treatment from some of our pediatric cancer survivors. The event also provides families the opportunities to network with other families and learn about resources available to them both during and after treatment. For more information, please call (714) 289-4021.
Children's cancers are very different than adult cancers and must be treated with specific pediatric cancer protocols. Our experience in exclusively treating children, teens and young adults makes us experts in the evaluation and treatment of all forms of common childhood and adolescent cancers. We are dedicated to administering the very latest pediatric cancer treatment options. A majority of our protocols come from the Children's Oncology Group (COG), a national organization funded by the National Cancer Institute (NCI). CHOC is the only medical center in the southwestern United States offering COG Phase 1 clinical trials.
Learn more about our clinical trials.