Hyundai Cancer Institute :: About the Cancer Institute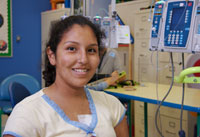 Selecting where a child will receive their cancer treatment is one of the biggest decisions a caregiver can make. At the Hyundai Cancer Institute at CHOC Children's, we understand this. We are well known for offering the latest pediatric cancer treatments by nationally recognized medical specialists. We are dedicated to not only treating cancer, but also the needs of the whole child—emotional, spiritual, and physical. Children simply shouldn't have to give up being kids while dealing with the grown-up issue of cancer.
The CHOC Cancer Institute Difference
The Cancer Institute's Team Approach
We believe in a team approach to providing treatment to our patients that includes a multidisciplinary team of physicians and specialists and the patient's family. We understand that a cancer diagnosis touches the lives of the entire family and for this reason are dedicated to a family-centered approach to care that includes immediately pairing patients and their families with a pediatric oncology nurse coordinator who serves as an advocate for the child and family throughout the patient's course of treatment.
Learn more about what to expect right from the start.
Our treatment specific teams work to provide innovative, specialized programs for on-going diagnosis, management and treatment of pediatric cancers.
When a child is ill and needs hospitalization, we understand that the entire family is affected. Because we so strongly believe in allowing a child to be a child and creating a sense of normalcy through play, discovery and creativity, we are dedicated to offering the most comprehensive
child-life and family support programs
in the region.
Our physicians and other health care professionals are all specially trained to work with pediatric oncology patients. In addition to the treatment programs, services, and programs above, the Cancer Institute is proud to offer patients:
Contacting the Cancer Institute is easy. Call (714) 509-8636 to set up a timely appointment. We are also available to provide second opinions for newly diagnosed or recurrent cancer patients.